For the love of a tube t-shirt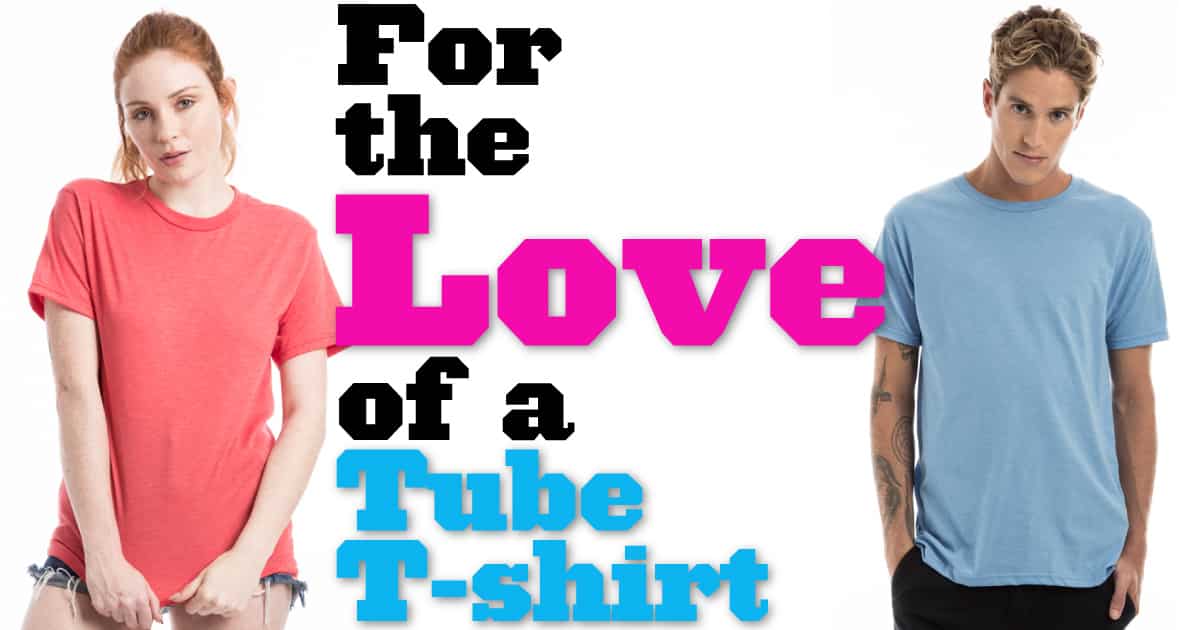 A SpectraUSA tube t-shirt is like a first love, easy to slip into and no one makes a tube tee quite like we do because, like first love, an extraordinary amount of effort and care are put into its creation. Tube t-shirts at SpectraUSAare special because of their design, and how we create them. What was once thought of as simply an inexpensive way to make a t-shirt has been transformed for two specific goals: To make the best damn t-shirt we can possibly make using a range of state of the art technology and USA grown cottonÊand, secondly. to pass the savings from using tubular knit technology on to our customers. What's not to love about a tube tee?
The first efforts at tube t-shirt manufacture were seen as a way to eliminate some labor from the process of t-shirt manufacture. Without the seams, t-shirts could be assembled faster and quicker, saving the manufacturer a good deal of money in the process. However, the older technology first used to create the tubular fabric for tube tees did not make the best knits. T-shirt aficionados might remember how tube tees first earned their bad reputation as these poor quality yarns would twist and warp the longer you had them, giving rise to the idea that all tube shirts torqued because of the way they were made. The fact is, the tube tee was a brilliant technological innovation for its time, just a poorly executed one in the rush by the mega-mega t-shirt manufacturers to scalp a few extra bucks from the consumer.
Early execution may have been poor but the tubular knit style still boasted exceptional technical merit and a world-beating fit when it was executed with care, and no cut corners-especially when it came to the quality of yarns used and how the fabrics were dyed, dried and tempered. When SpectraUSA makes a tube t-shirt each and every tube size is knitted on its own, state-of-the-art machine to ensure we maintain a large inventory of each specific size. Our machines the "body tube" shaped fabrics in such a way as to ensure perfect tension and form to this circular knit textile.Ê But when you strip it all down to the studs, the real difference comes from SpectraUSA's tube t-shirts being created from top-self, American grown cotton with no expense spared, to ensure that these fine tees are constructed the way they should be: Perfectly.
With a SpectraUSA tube t-shirt we find that the fabric is dyed in much the same way as it is knitted with the highest standards. This means, our circular knit textiles are rigorously dyed before being cut to size. In fact, our dyeing process is just one of the factors in the expert construction processes that allow the knitted grain of these tubular textiles to settleÊ into a lasting shape. In simple terms, this means that any reduction in size, via shrinkage, under the high pressures and temperatures we put this fabric through is not passed off on the consumer; instead we utilize this in the production to better tempter this amazing fabric before we begin to turn it into the best fitting t-shirt you'll ever slip on. After all, what good is such a rigorous preparation process if not to thoroughly temper and tame these sumptuous 30 singles tube shirts prior to handing them over to our customers?
Tube tees like the Bi-Blend 3050 remain one of the flagship designs we are most proud of at SpectraUSA because it is so obvious that we don't cut corners, but rather, pass our cost savings and design gains on, to benefit the consumer. SpectraUSA is deeply invested in ensuring that our customers are the recipient of these savings. But that's not the only saving in play when it comes to a SpectraUSA tubular knitted t-shirt.
Tubular t-shirts are not only one of the best fitting garments you'll ever put on but they are, by virtue of their unique design, a real boon for the environment because they use less cotton in their construction and, therefore, less water and there remains a significantly smaller carbon footprint to every tubular t-shirt out there. This might not seem like a big deal for one tube t-shirt hanging in your closet, but spare a thought for that small saving multiplied across the millions of tees SpectraUSA ships each month and suddenly there is an enormous difference and impact on the environment.
Once, a circular knit was seen as a boon to the industry to create a cheaper t-shirt by eliminating some of the labor involved in its construction. Now, with the deployment of modern technology and a savvy design crew, incredibly durable and creamy-soft USA made 30 singles yarns and you will find that SpectraUSA manufactures a tubular t-shirt which is not only environmentally smart, but passes the savings on to the consumer whilst providing an epic fit which you simply cannot get from any other kind of tee.