From Light to Dark: The SpectraUSA Grey T-shirt Unpacked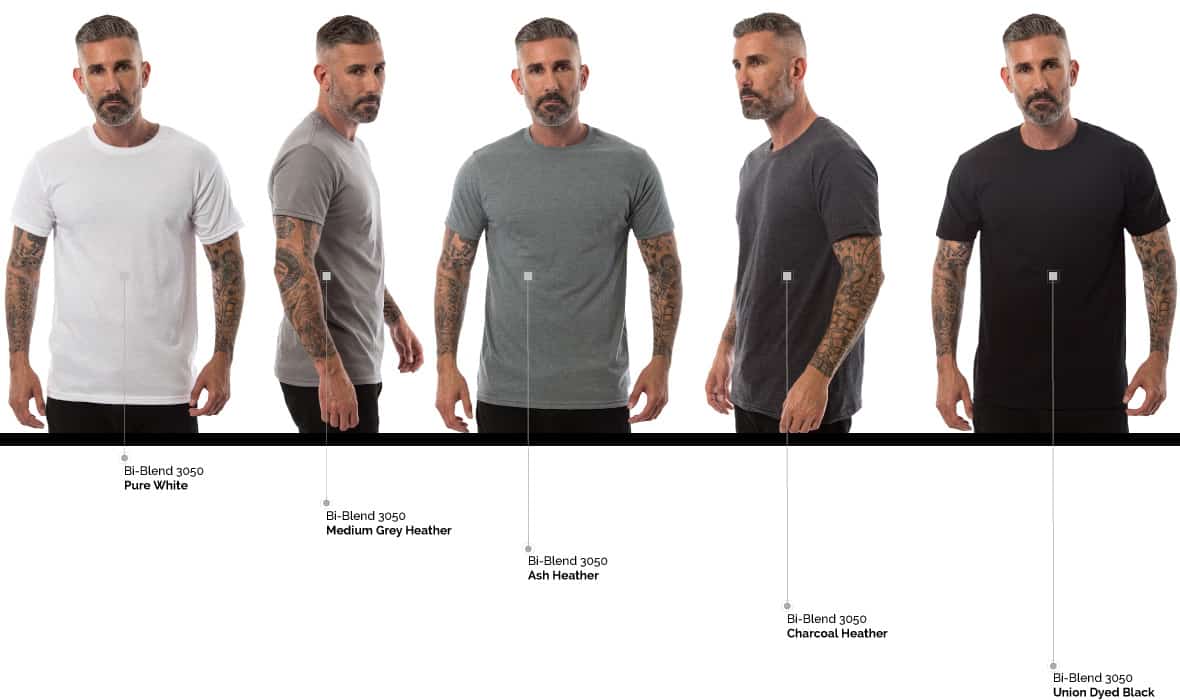 A Grey t-shirt remains one of the most versatile colored tees in any closet, possessing the all the utility of black and white, which go with just about anything, but also having a subtlety these two polar opposites do not. When it comes to mixing up a post-labor day wardrobe, reach for the grey t-shirt and you can't go wrong. SpectraUSA's proprietary Bi-blend 3050 tee boasts a unique palette in versatile shades of grey, unrivaled anywhere else in the industry. When you are looking for a top shelf t-shirt in subtle shade of grey to drop your exquisite print on, tuck into your favorite jeans or snuggle up with, look no further than SpectraUSA's Bi-blend 3050 range of grey t-shirts.
When black t-shirts get together at closet cocktail parties, and the talk turns to who has the deepest black and smoothest finish, the envy of every other tee in your wardrobe is, unquestionably, the SpectraUSA Union Dyed Black 3050 Bi-blend. The Black union Dyed bi-blend tee is not just a great t-shirt, it is connoisseur class and engineered to be the best. With the black t-shirt being the accepted, ubiquitous uniform of California we went for broke and made the best quality bi-blend black you will find on the street, hands down. The specialized union dyeing process we commit these t-shirts to tempers them in the most unique way-softening them to a creamy soft finish whilst reducing shrinkage and strengthening it against losing its shape-critical concerns for t-shirt lovers. The black 3050 union dyed tee is, without doubt, the darkest black t-shirt on the street and it stays that way. You will be hard pressed to find a finer example of this American classic bi-blend t-shirt anywhere.
A tone lighter than the deep union dyed black is the SpectraUSA Charcoal heather t-shirt. Duck-down soft, this smoldering charcoal grey offers a drop in volume from its deep black cousin without forfeiting any presence. Charcoal, it is said, is Facebook CEO Mark Zuckerberg's favorite color for his trademark uniform t-shirts and, SpectraUSA's charcoal heather t-shirt, is just the ticket for those wanting to build a uniform wardrobe around a classic, grey charcoal heather t-shirt. The tailored finish of the 3050 styling really shines in this deep Charcoal finish and the clean lines and subtle silhouetting, typically concealed by black, are revealed and worn proudly in the soft and smooth finish of this charcoal heather tee.
Following closely on the heels of the Bi-blend Charcoal heather t-shirt is the upstart of the pack, the SpectraUSA Ash Heather t-shirt. A modern take on the classic athletic heathers of yesteryear, this fashion-forward direction in a soft bi-blend textile, is as up to the task of a busy workout as its predecessor but with a few modern t-shirt design tricks up its sleeves. Moisture wicking would be the first modern addition to this classic look. Spectra's proprietary bi-blend fabrics lend enormous flexibility and athleticism to the 3050, moisture wicking being one of the necessary components for truly athletic functioning and feel. The Ash heather color itself took us a lot of sourcing and late night candle burning to finish. Imbued with a slight blue-or is that green-in certain lights, this soft grey is a bit of a chameleon and offers the wearer a few shirts in one, depending on the other colors you pair it with. Obviously it goes like gangbusters with a good pair of jeans, but this closet winner will also pair equally well with board-shorts for a day on the beach and is just as comfortable being slipped under a casual shirt for a Friday at the office. Versatility is the name of the game with the ever versatile bi-blend Ash Heather grey t-shirt.
Where most T-shirt manufacturers would have called it a day on their grey t-shirt range after these two humdingers, SpectraUSA really pushed the boat out with the final offering in a grey tee; their medium grey heather 3050 Bi-blend. Where The Ash Heather Bi-blend t-shirt taps the blue/green aspect of the color spectrum, medium grey heather takes the standard grey t-shirt and dips its toes into the magenta end of the pool to offer just the lightest warm overtones to this light grey t-shirt. Infinitely wearable, pairing well with jeans, khakis and and autumnal corduroys this versatile grey t-shirt works across the gender spectrum and offers a stylishly classic compliment to any ensemble.
Travelling from the opposite end of the tonal range starting with the classic Union dyed black bi-blend tee, through a diverse array of grey t-shirt brings us to the final jewel in the crown of our monochromatic palette of grey t-shirts; SpectraUSA's brilliant pure white 3050 bi-blend offering. In this winning, classic style the ubiquitous white t-shirt gets a bit of a turbo boost in the versatility department. Built from the ground up in soap-bubble soft ring-spun bi-blend fabric, designed to wick away moisture from busy bodies whilst offering top-shelf form and comfort all day long, the Bi-blued 3050 pure white tee offers everything a t-shirt should and then simply turns the volume up to 11. Not just a good t-shirt, this is a great tee and unquestionably a closet staple for the serious t-shirt aficionado, who values a bright, enduring white tee that will hold its luster better than any other tee out there. The SpectraUSA 3050 Bi-blend range is a versatile style with more than a few colors to choose from, with a dynamic monochromatic palette of Black, White and Grey T-shirts offering such a strong fashion-forward approach they are an easy compliment to any closet and a steady feature for any design-minded and fashion conscious t-shirt lover.