Best T-Shirt for Women, SpectraUSA 3050 Bi-blend
You will find a t-shirt in any clothing store you walk into. And for the most part, they are all somewhat similar, they share the same basic shape and are made of varying soft materials. Honestly, I never thought too much about t-shirts. That was until I tried on the SpectraUSA 3050 Bi-blend shirt. This t-shirt blew every other out of the water. I had no idea how comfortable and flattering a shirt could be. The shirt is thoughtfully designed for the human body, and how it moves and feels within a garment.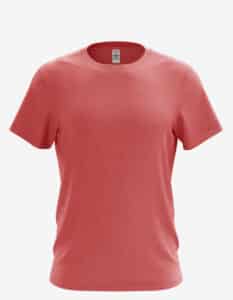 It is especially difficult as a woman to find a t-shirt that properly fits. In a world where most garments focus on men's figures, finding a top that covers and accentuates the right curves is impossible. When pulling on The SpectraUSA 3050 Bi-blend, I felt comfortable, like I could move any which way, but I also felt covered in all the right areas. It is engineered out of a bi-blend fabric consisting of cotton and poly fibers. This ensures maximum stretch and breathability. The sleeve of the shirt falls half-way down the bicep, covering just enough arm. The torso of the shirt is flattering and slimming, falling right below the hip. The neckline is made of a ribbed material that supports the collar without feeling restrictive.
The shirt is available in a number of sizing options, from S-3XL, ensuring comfort to a variety of body types. And when you're wearing it, it doesn't feel like any old t-shirt, but something special. You will feel elevated by the material and fit of this item.
Not only does the 3050 Bi-blend provide comfort and an unparalleled fit, it comes in a wide range of colors, matching any outfit you put together. When I checked out the SpectraUSA website, I was astounded and delighted at the color offerings they have in the 3050 Bi-blend. I couldn't choose between the fun purple, calming blue, or classic white, so I bought all of them! I will definitely be returning for more colorways as my wardrobe evolves. I already have my eye on the cool and sophisticated heather grey.