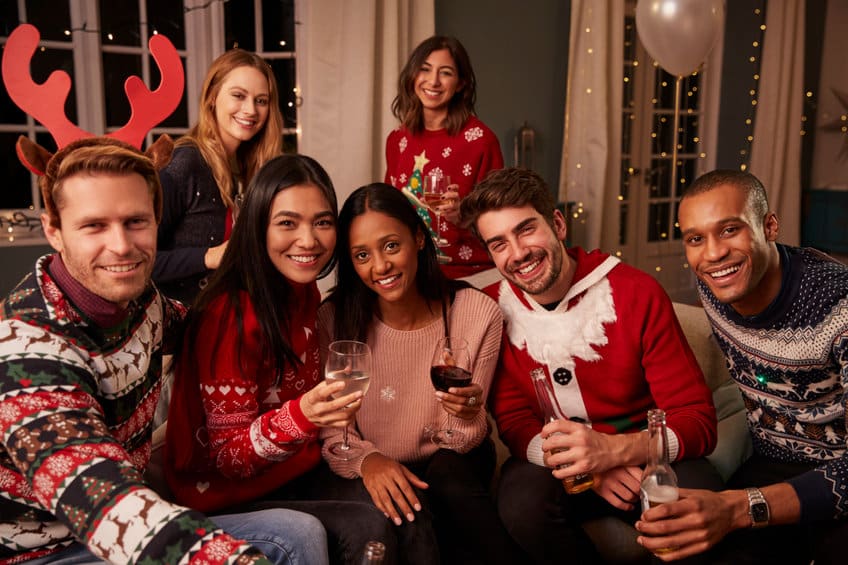 It's that time of year where Santa pub crawls are happening and the Ugly Sweater parties are buzzing. Maybe you are the type to do the pub crawl IN an ugly sweater, what a party animal. For many young adults, recreating those Christmas sweaters that grandma used to make brings back fond memories as well as making fun new memories. You can spend countless hours and the same amount of money online looking for the perfectly crude sweater to wear, or you can use a bit of nostalgia and elbow grease to help you win that contest. At the very least, you can go to Christmas dinner and make your mom smile with these sweater ideas.
The simplest way to create your ugly sweater is to go to your local craft store and pick up some fabric paint. Go for the puffy paint and glitter if you want to go all out. One of the easiest designs to try out is getting this comfy crew neck sweater in white. Use black fabric paint to make two large dots and then a series of dots below it to look like a smile. Add an orange triangle for a "nose" and there you go, an instant snowman sweater! If you'd rather lounge around indoors in your snowman outfit, put this design on a long sleeve shirt instead. Complete your outfit with stylish white joggers, you are good to go Frosty the Snowman!
Let's take it back to grade school with some finger painting. Just like the turkey you used to make for Thanksgiving, you will use your whole hand for this project. Dip your hand into green paint and start with one hand print at the top of the sweater, then right below it add two more hand prints. Below that, make a row of three handprints, and you can do another layer if you please, but at this point you should see a Christmas tree emerge. Find the gaudiest ribbon or trinket to decorate the top of the tree. Find leftover knickknacks and baubles that you can pin onto the tree as ornaments or presents underneath. The stranger items you can get, the better.
We can't forget the big guy himself! Create your own Santa Claus (or Mrs. Claus) shirt by getting the Classic Heritage Long Sleeve in red. Getting some felt in black for the belt and white for the fur trim is recommended; you can always use fabric glue to add these instead of sewing. Of course, you can also use fabric paint for these details.
Sometimes the best sweaters are the ones that are haphazardly thrown together. The last thing you want to do is stress out about a fun party. Hopefully these have motivated you to try making your own ugly sweater.