SpectraUSA's All-Over Edge-to-edge Printed T-shirts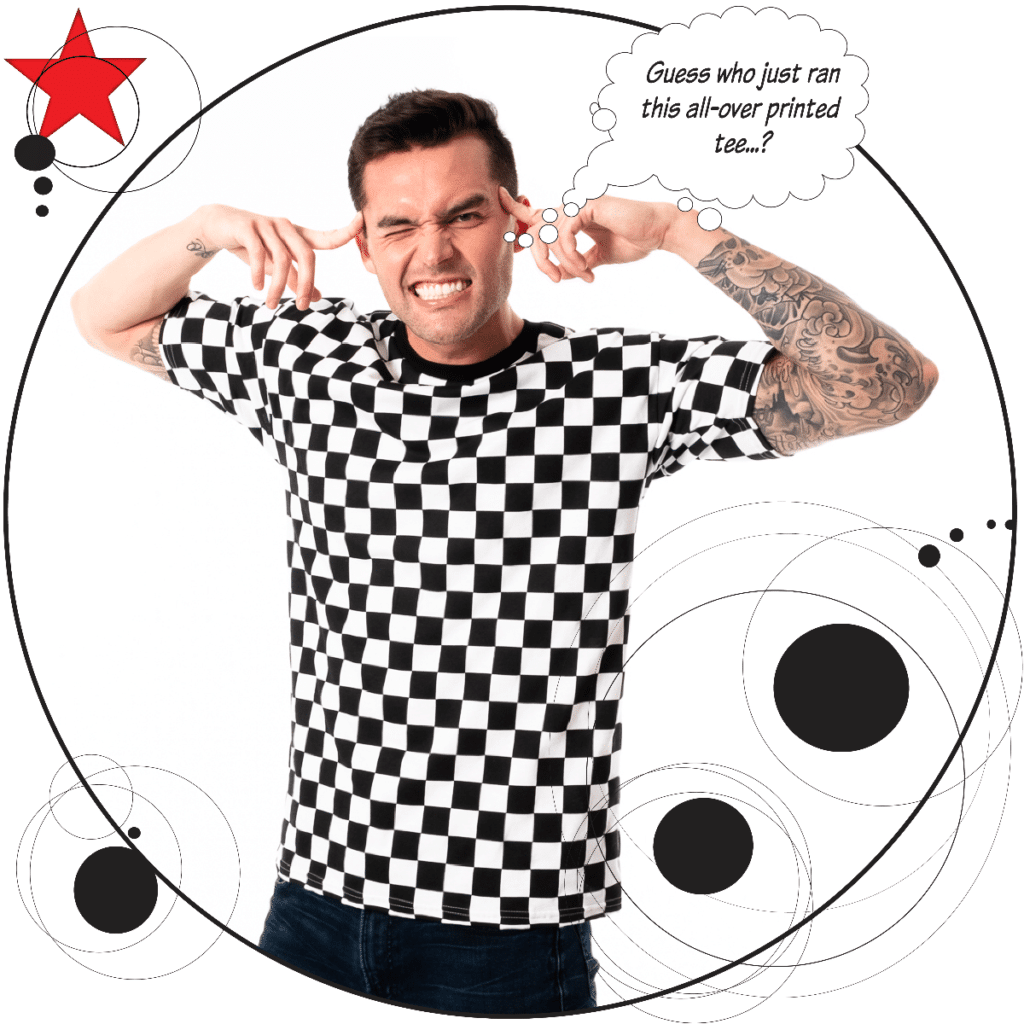 We live in a world where there is literally a new branded t-shirt for each day of the year. Which sort of begs the question: How to you stay relevant in an apparel market so deeply saturated with t-shirt makers, with a print-shop on every corner and even more waiting on the internet, just a couple of clicks away? The short answer is with smarter design and more manufacturing options. The even shorter answer is with SpectraUSA's all-over printed t-shirts.
But what is an all-over printed t-shirt? Well, traditionally printers have always bought t- shirt blanks- already made t-shirts from suppliers like SpectraUSA-and only then do they apply their artwork and prints to them, making them unique, valuable and worthwhile through their ingenious designs and creative prowess. That's not a bad business model actually, but sadly it's also not a very novel one. You'll have to agree that there are a great many highly talented designers out there, add to that the production gurus steeped in t-shirt lore, and high-flying fashion-meisters ready to home-brew just about any kind of printed apparel you can think of. All of this levels the playing field a little and makes competing in this market a little scary at times. Until now of course.
SpectraUSA is turning the tables on the market and is now offering a highly specialized and truly unique production program for select customers-where we will print on our incredible textiles, which you already know and love-before cutting and sewing the fabric into the finished garment. The result? Edge-to-edge all-over printed t-shirts, an offering as yet unparalleled in the industry. This kind of fabrication has historically been the preserve of mega-manufacturers doing massive runs of garments, but no longer. SpectraUSA is now making their state-of-the-art manufacturing technology and turn- on-a-dime production management systems available to you for the creation and application of low-run edge-to-edge prints and garment fabrication.
What are the limitations? Well, there aren't many, and that's the real beauty of this new initiative. SpectraUSA can print up to eight color graphics (yes, you read that right, 8 colors) and produce low minimum runs per each individual print before cutting and stitching the shirts for you. That's our unique textiles, with designs created, printed and patterned by you, and manufactured to our exacting quality specifications. Depending on the size ratio required and the fabric yield per order, this initiative opens up a new world of possibility for your production options and adds real versatility to your product line. Coupled with a unique ability to compete head-to-head with bigger manufacturing concerns.
So where do I sign up you say? The short answer: You don't. Given the uniqueness of this offering and the level of detail and specificity required per order SpectraUSA is opening this new manufacturing opportunity up to select clients with an already established track record and account history with us. If you are already building your brand by partnering with SpectraUSA and utilizing our premium inventory of blank t- shirt styles-and you already know who you are-please get in touch with our sales team to ensure your account meets the necessarily strict qualifying parameters. This is a unique manufacturing opportunity for you to utilize your account history with us for unparalleled leverage into an untouched market space which has been off limits for most, until now.
How do you get started? Email us at sales@spectrausa.net, include your business name, phone numebr, email and URL details and we will get in touch to discuss on-boarding and the production parameters with you.