History of the Raglan Style Sleeve
The raglan style is a classic alternative to the classic t-shirt with a set-in sleeve. Often thought of as a Baseball shirt, Raglan shirts feature a single piece of fabric that extends from the sleeve to the collar, with a diagonal seam attaching it to the torso of the shirt.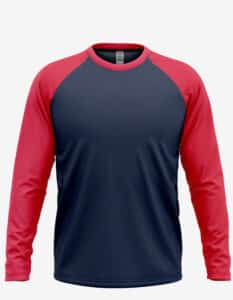 While the t-shirt gained popularity around the turn of the 20th century, the Raglan sleeve goes back even further than that. Lord Raglan, the namesake of the iconic style, was a distinguished officer for the British Army in the early 1800s. He lost his arm in the famous 1815 Battle of Waterloo, in which the British Army went up against the French, led by Emperor Napoleon Bonapart.
The campaign lasted just over 3 weeks and resulted in over 120,000 deaths. Also lost in the battle – Lord Raglan's right arm. Missing an essential limb, Raglan found himself in need of a garment that would grant him more mobility. And so, the Raglan sleeve was invented. In contrast to the prefixed sleeve, the raglan sleeve allowed for flexible movement and gave Lord Raglan to easily dress and swing his sword without the help of his missing arm.
The ease of movement also makes the style perfect for athletes, thus its rise of popularity as a baseball shirt. Raglan shirt's like SpectraUSA's Fashion Raglan fit every shape and size shoulder, making it comfortable and accommodating for every body.