Fashion Profile: Mexicool & Robby Vient Alcaraz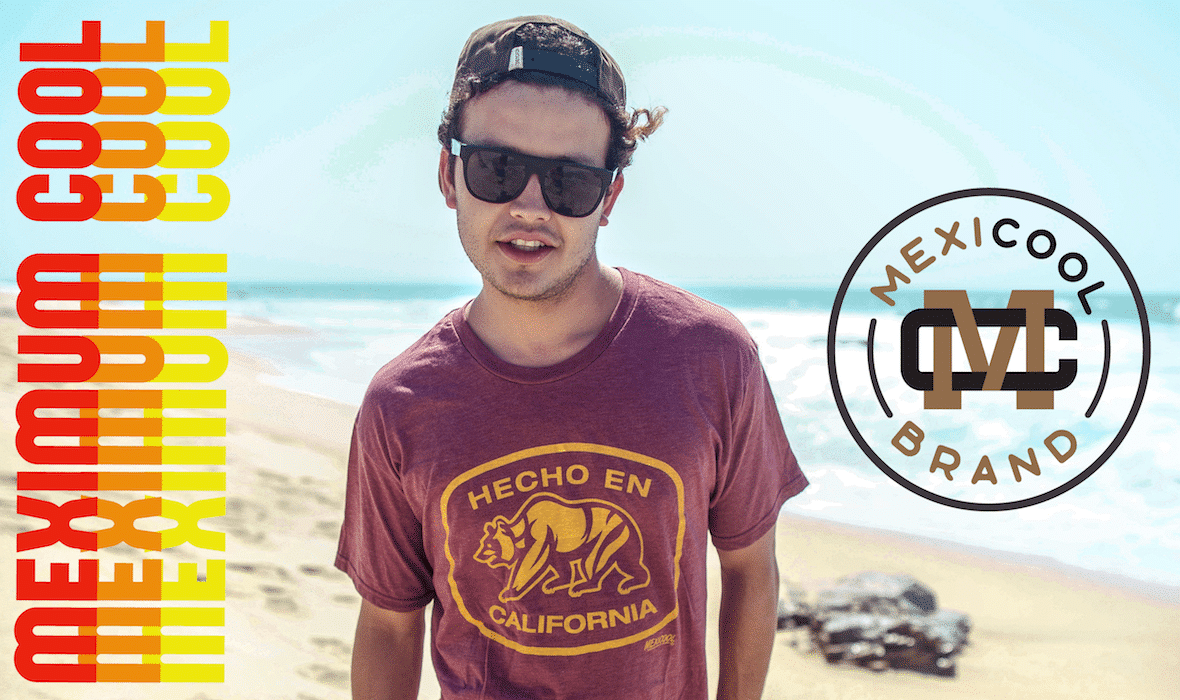 It doesn't have to be profound," quips Robby Vient Alcaraz, the design powerhouse behind the Mexi/Cali lifestyle brand Mexicool, "But it's got to be clever."
And clever it is with Robby's often biting humor shining through a truly original and handsomely crafted range of sassy apparel and accessories, teasing us from the cultural intersection where tongue-in-cheek Mexican humor slams headfirst into the polish of Los Angeles pop culture.
An enigmatic character to be sure, Robby transcends both Mexican and So-Cal culture, self-descried as half-gringo and half-paisa, he is perfectly placed to poke fun at the intersection of these two worlds, all the while producing some of the most eminently wearable, and remarkable clothing to be seen street-side. Robby's snappy design and quick humor effortlessly makes light of an often strained relationship between the United States and Mexico which he feels, could benefit from more empathy, more fun and fewer, not more, boundaries. This shared, empathy embedded in rich cultural experience shows up immediately in Robby's eye-catching apparel and accessory range. It seems that nothing, from either side of the border, is sacred and everything is an easy target for his acerbic wit and quicker pen. From Star Wars to Andy Warhol's iconic Rolling Stones tongue (or is it tongues?), through Dunkin' Donuts and Frida Kahlo and Princess Leia no less, each design is fecund with multicultural nuance and fun with a capital "F." Robby's signature designs and instantly recognizable style shoot the curl at the critical point of intersection between two incredibly vibrant cultures.
Growing up in an immersed Robby in the rich cultural heritage of Mexico, and his bi-racial parents ensured that Robby had one foot squarely planted on either side of the famous border, lending him a unique and necessarily irreverent perspective on the best of both cultures. By nineteen Robby had moved to Los Angeles where he first got his design feet wet in the commercial art world and nurtured by the creative juices of the big city, it wasn't long before he founded NaCo, Robby's first street clothing brand infused with the same lifestyle and pop culture sensibilities, as well as the easy humor that make Mexicool such fun to make and wear.
Mexicool is one of a number of emergent lifestyle brands that have chosen SpectraUSA as their preferred t-shirt maker to showcase their unique voice and artistic stylings. Spectra's vast range of premium cotton and blended t-shirts spans a variety of styles, textiles and fabrications, providing iconic surf, skate and street-wear labels with the best-fitting frame for their designs. But it is not only about creating top-drawer fashion for Spectra, they are really invested in the success and development of these emergent brands however, big, small or successful. Street culture is in a state of perpetual evolution as cultures, creativity and the forces of youth and beauty come into contact with each other. The perfect cultural melting pot for this is, of course, the tshirt and who better to help showcase the iconic talents of Mexicool, one of Southern California's own but Spectra USA.