Fashion Profile: Fishworks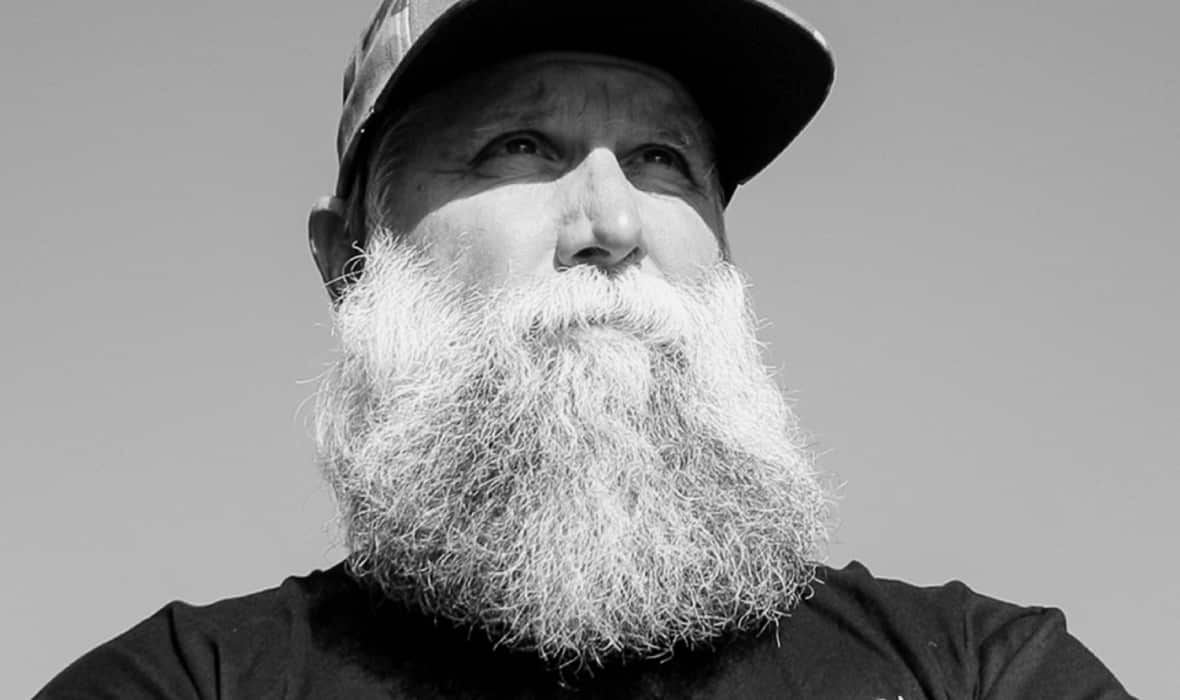 I'll stop short of calling him Ishmael. Lawrance "Squig" Quigley is not a character from Herman Melville's Moby Dick. But he could be. Easily. Standing tall with that beard of his, those razor sharp hazel eyes and a ferocious, ever-present intensity which hums about him constantly, I wonder if he is a benign Ahab, or a punk-rock Ishmael. With an eye patch Squig would be a dead ringer for the late Jack O'Neill. He is bearded like a muscle, tanned like familiar, comfortable old leather, he is taught, ready and aware, a big old Barracuda of a man. The picture is so complete that I catch myself trying to look up the back of his neck, behind the ear, to see if he has barnacles there. Squig is a long-standing member of the informal Admiralty around Dana Point and of the more than just "Highly Regarded" apparel brand, Fishworks. He has been a waterman since before most of us were chewing crayons and his salty predisposition is unquestionably the driving force in his life. You need to understand that the brand name "Fishworks" is not just another apparel label from the West coast, it is unequivocally the best possible characterization of a man who is most likely 3 parts fish himself, and who is probably keeping a secret set of gills stashed away beneath that luxurious beard of his. Lawrance Quigley is a force of nature, like a high tide, or the migration of whales, and the gear he's building at Fishworks is just like him: Tough, proud, almost eternal, functional and just deadly cool enough. Welcome to Fishworks ye landlubbers!
If you are ever looking for Lawrance Quigley in a crowd don't look for a man. Don't even look for a big man, for that is what he is, rangy and sinewy. I'd hate to have to fight him. Cancer once went a few rounds with Squig for kicks and quickly threw in the towel after a proper beating and a bloodied nose. Don't even look for a tanned, barnacled, sea-shanty of a man. No, if you are ever looking for Lawrance Quigley in a crowded room , look first for The Beard. That's correct, The Beard, in capitals. Other beards defer to it. Grizzly bears are envious of the sheer luxury of the veritable pelt the man has extending from his jawbone. The Quigley Beard is one's first introduction to Lawrance and it offers some suggestion of the wisdom gained from half a century on the ocean and nearly thirty years in and around the apparel game; it tells tales of time well-spent drifting around the world driven by powerful planetary forces for little more than the thrill of the ride. The proudly hirsute chin of Lawrance Quigley is holding court at the Fishworks HQ. Fishworks has a long evolution over two decades and it doesn't start with t-shirts and a logo, it starts with shorts. Deck-shorts for fishermen to be precise.
Fishworks T-Shirts
"We called 'em 'Deckies' to have a bit of a dig at Dickies," Squig tells me. They were his solution to the tragic selection of deck shorts which were passing themselves off as 'quality apparel' for fishermen at the time. Quigley sourced fabrics, re-jigged widths, lengths, tensions and stitching; figured out the right combinations to make them worthy, practical and functional and then took them into production himself. He pauses a beat and smiles. It strikes me that this might be the look a pirate has when he's dreaming of his buried treasure. Squig starts telling me about a customer who phoned him up to complain about a zipper which had blown out on of a pair.
"Oh boy, that sucks," says Squig, "How long you had 'em?"
"Ten years," says the guy, "Actually"_ Maybe a bit longer"_"
Squig smiles again, no mistaking the pride behind the smile. Treasure indeed.
We can make all the jokes we like about Squig being the gnarly pirate captain of Fishworks but here is a man who learned his craft in a time when the apparel surf apparel industry was largely domestically based, where Squig first cut his teeth through tough stints at surf-brand legends, during the giddy rise of the surf apparel industry, is where he first learned the trade from the ground up. Companies like Hawaiian Island Creations, Rip Curl, Lost, Oakley; legends of the industry who literally built an apparel industry out of nothing; from the salt water, dreams and "being a surfer" was not something parents hoped to hear in the list of things their children aspired to be. And Squig was there to build it with them.
Fishwork Caps
Starting as a deck-swabber at HIC (Hawaiian Island Creations) and digging-in to learn the ropes, Squig eventually headed out on his own in '91 with his deck shorts (which he still makes) and by 1996 establishing the wholly family-owned phenomenon of Fishworks. Fishworks is Squigs, and he is Fishworks. Between himself and Mrs Quigley-word has it, she is the silent yet extremely powerful stealth-engine behind much of Fishworks' success and dogged staying power-they produce the entire Fishworks catalog, from head-wear to outerwear, tees, shorts, boardies and beanies. Beyond this, Squig continues to consult on design and production for a slew of apparel giants and further afield, still drawing on his impressive-let's call it his "Salty League" education-in the engine rooms of marquee surf brands. Much like that scene in Jaws where they realize they're going to need a bigger boat, you'll need a bigger-than-standard chart if you want to track the Quigley's work ethic. Who knows where he finds the time to fish and to surf but these activities remain the cornerstones of his lifestyle, grounding him in the great outdoors.
"What kind of board are you riding these days?" I foolishly, foolishly, ask a man who lives in and off the ocean. Who named his firstborn Fisher, and works, day in, and day-out in an office covered in pictures of he and his family landing massive fish and other assorted sea-beasties.
"A fish."
His reply is so deadpan Squig's quick humor whizzes by me for an instant. A fish. What else would our Ishmael ride?
Fishworks Fashion Combos
"I was fishing before it was cool," Squig quips, a cheeky smile parting his beard. He is nothing if not the complete waterman, in every sense of the definition. Sure,this isn't a tropical island paradise and it's harder to live completely off the waves here but the three parts fish in Squig's DNA require regular visits to the briny deep and in the two hours I've spent at Fishworks he must have checked the surf cameras at Salt Creek and Lowers at a dozen times or more. Through Fishworks Squig has found a way to create great craftsmanship and channel the dream of an endless summer of surf, sand and salt and turns it into sweat-of-the-brow pride in apparel with a heritage. So, when your zipper blows out on your Deckies after ten tears of hammering away at it, the only appropriate thing to say to Squig seems to be, "Thank you Captain!" All of Fishworks' gear is made with such care and pride, it's remarkable to see this kind of work ethic is still available. Which is where SpectraUSA comes into it for Squig, who specifies both SpectraUSA's Bi-blend 3050 as well as the 3100 Cotton Perfection for his signature printed tees. "They're great quality tees," he agrees with a friendly smile, "they print well and last long, not much more to say"_ That's where I need Fishworks' quality to be."
But "Fishworks is not for everyone," he adds, "not everyone is going to get what we do here," and he's right. The character behind Fishworks' designs is unmistakable, it carries that feeling of do-it-yourself-or-don't-do-it-at-all in it's attitude and it's leaning. You are either already a member of the club or you're simply not. If Squig has to explain it to you, you are just not going to get it; it really is as simple as that. "I want people stoked on my product," adds Squig, "We're not some soulless, faceless brand with a bunch of logos. We've got a history, an evolution here, and we make great products because of it"_ It's really about that stoke for us, you know?" And I do know. Lawrance is so damn proud of each and every single stitch which comes out of Fishworks, that it strikes me that he's trying to funnel his own pure, raw stoke into the folks who wear Fishworks gear. It is as if he wants to make them feel the way he does, about fishing, about surfing, the ocean, just being alive and rocking out, deeply bearded, righteous and awesome and just, as the captain says, leaning back and nodding knowingly once more, "Staying true."