Difference Between NAFTA and USMCA
According to the Office of The United States Trade Representative the highlights of the United States-Mexico-Canada Agreement (USMCA) are as follows:
Creating a more level playing field for American workers, including improved rules of origin for automobiles, trucks, other products, and disciplines on currency manipulation.
Benefiting American farmers, ranchers, and agribusinesses by modernizing and strengthening food and agriculture trade in North America.
Supporting a 21st Century economy through new protections for U.S. intellectual property, and ensuring opportunities for trade in U.S. services.
New chapters covering Digital Trade, Anti Corruption, and Good Regulatory Practices, as well as a chapter devoted to ensuring that Small and Medium Sized Enterprises benefit from the Agreement.
There are several key factors that explain the difference between NAFTA and USMCA: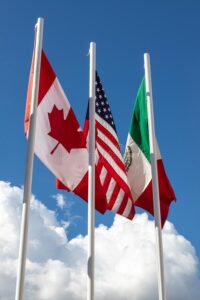 Auto Manufacturing: The USMCA requires 75% of a vehicle's parts to be made in one of the three countries – up from the current 62.5% rule. "The USMCA allows the US auto industry to remain globally competitive by ensuring vehicles and auto parts are able to move freely across country lines," said Matt Blunt, president of the American Automotive Policy Council, in a statement
Labor Laws: SMCA strengthens the enforcement of labor rules, creating a more level playing field for American workers.
Access for Dairy Farmers: NAFTA eliminated tariffs on a variety of agricultural products that were traded among the three countries. USMCA keeps these tariffs eliminated, while continuing to further open the Canadian market to US eggs and poultry.
Digital Upgrade: A new chapter that includes digital trade is included in USMCA. This new chapter that was not included in NAFTA boosts business by creating new storing systems.
Environment Protection: The agreement provides $600 million to address environmental problems in the region.
Biologic Drugs: USMCA removed a provision that required severe protections for biologic drugs. The removed provision was to require all three of the countries to provide a 10 year exclusivity for biologics.