3 Steps to buying the perfect blank T-shirt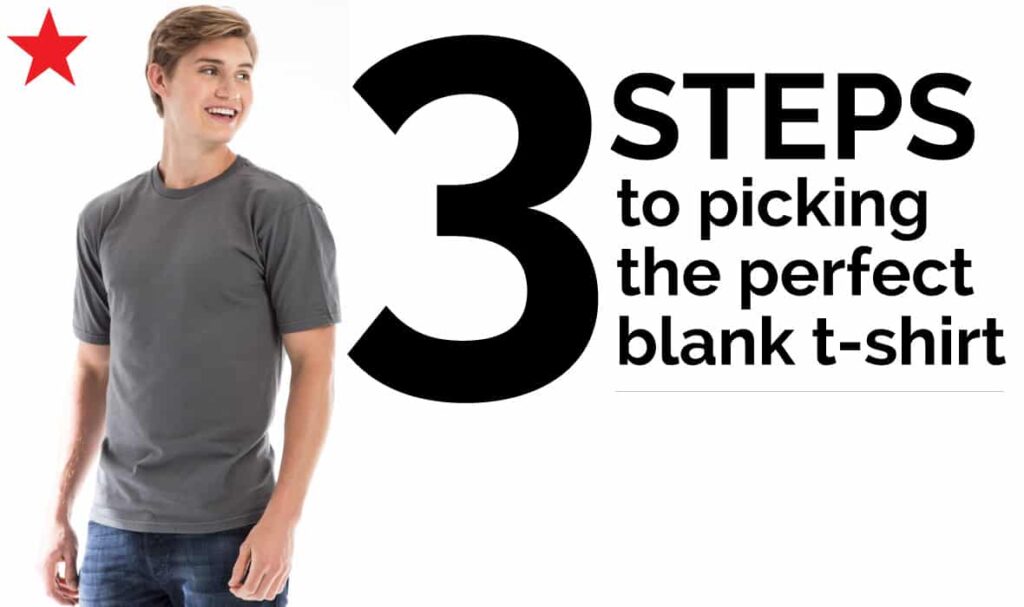 The blank black t-shirt is the de rigeur uniform of California. A trip down the streets and beaches of LA, San Diego or San Francisco will confirm any doubts you may have about this fact. Black is the perfect shade for any gritty, smoggy city but also for the abundant creative classes in the big towns making, breaking and bringing new stuff to life in studios, skate parks, line ups and backstreets across the State. Picking the perfect blank t-shirt is not as easy as you may first think, so we did the grunt work for you to make your search for a blank tshirt that much easier.
Ironically, the most popular item in any closet are usually the most overlooked. Where we may agonize over a pair of shoes or jeans for weeks, we won't spare a second thought to purchasing a blank tee. Partly it's the cost factor, a great pair of jeans or shoes can run to the hundreds of dollars where t-shirts-for most of us-seldom cost more than $30 or even less for a sharp looking blank tee which isn't run of the mill. With t-shirts it's a very forgiving ecosystem, if you buy the wrong t-shirt you can just get another tomorrow, but not so with bigger ticket items, like jeans, shoes or jackets. So how do you buy the perfect tee? How to know for sure that the blank t-shirt you just picked up is going to remain a staple part of your Californian uniform for years to come?
Three things to consider for a perfect blank t-shirt
1. The Perfect Blank T-shirt: Is it a softee or a toughie?
When the t-shirt first broke onto on the scene as the ultimate in military spec underwear there wasn't much of a choice to the design, the fit or the comfort level of this fashion classic. A lot has happened in the garment industry since then and we live in an age where you could wear a different type of t-shirt every day of the year and still never wear the same shirt twice. But sometimes too much choice isn't always a helpful thing-the easiest way to pick the perfect t-shirt is to decide, first and foremost-do I prefer a coarse-knit t-shirt or a softer knit tee.
"Tough" tees are created from coarser textiles and, typically, from an open-end spinning process. This is the original t-shirt spec where the comfort of the wearer was a secondary consideration to the durability and wear-ability of the shirt. With this said, there's a lot of folks who say there is nothing that can come close to the softness and fit of one of these classic t-shirt styles once it is properly worn-in and contoured exactly to the shape of your body like a glove.
At the rough and tough end of the scale is Spectra's 18 singles open-end yarn spun 2001 "Roughneck," a tee designed for strength and durability, and a clear favorite with the action sports crowd who place pretty strenuous demands on their favorite tees, and consequently a higher premium on their hard-wearing ability.
For folks in need of a gentler touch they can find the difference they need in modern ring-spun yarns which produce a considerably more forgiving and softer thread than their open-end yarn spun cousins. The net result is a truly soft t-shirt with a very gentle touch like Spectra's 2100 Retro ring-spun tee.
At the opposite end of the softness scale is the 3100 cotton perfection, a true 30 singles ring-spun t-shirt. The unique feature of this shirt is that it is tempered and preshrunk in the dyeing process which gives the softest shirt available exceptional durability as well.
2. Light weight t-shirts or heavy weight t-shirts?
Perhaps the easiest consideration towards your choice of the perfect blank t-shirt is the first-do you enjoy a lightweight and soft fabric, or a hard-wearing, heavyweight fabric you can break in and soften up yourself? The softness of a t-shirt typically improves with cotton count; similarly, the shirt also gets a little lighter as the number of the count increases. For example, a 20 singles (single knit) T-shirt is a little coarser and a slightly heavier than the more refined, softer 30 singles tshirt which, in turn, is a shade or two off the lightness and softness of a 40 singles tee.
For a tough contender that meets the highest standards of softness, warmth and with a slightly thicker feel, look no further than the SpectraUSA 2100 Retro ring-spun t-shirt. Literally a chip of the old block, this tee is the same American heritage design grandad shipped off to war in, but with a refined, modern, ring-spun aesthetic. It carries the classic military design with no frills, no quarter given and none asked. You will instantly recognize the slightly fuller, thicker ring-spinning fabric behind this garment-something grandad would have envied. This is a great winter extra-layer garment or, for flying solo in summer as an all-you'll-need perfect blank t-shirt.
Contrasting the 2100 tee with Spectra's signature 3100 Cotton Perfection t-shirt is a tough choice to have to make with each garment having its own unique set of premium features which set it apart. The 3100 Cotton Perfection is a 30 singles ring-spun garment which means there's next-level refinement to the spun cotton textile behind this exceptional shirt, rendering it gorgeously soft and smooth under the hand and on the shoulders. The refined 30 singles spinning process also works to lighten the fabric ever so slightly giving the feeling of the 3100 being an all-round "lighter" shirt to wear. The updated cut of the 3100 is also more modern, more "now" and reflective of 100 years of t-shirt innovation and style.
3. Colors
Spectra boasts the brightest white and deepest black of any t-shirt in the market today. If you searching for the perfect blank black t-shirt, or stalking the one and only white tee to complete your look, you can do a lot worse than one of Spectra's fine North American made garments. The proprietary dyeing processes behind the versatile range of colors in both the 2100 and 3100 styles is one of the reasons the shirts are so soft under hand. The dyes temper and soften the shirts ensuring negligible shrinkage (it's industry standard to expect t-shirts to shrink by up to 5% of their size after the first few washes and laps around the drier), and the range of colors across the 2100 and 3100 styles is quite staggering-something for everyone is a bit of an understatement: Yellow, Bright Orange, Scarlet, Chocolate Brown, Kelly Green, Turquoise, Royal Blue and Maroon are the tip of this iceberg. But if you are simply looking for connoisseur class, blank black and white t-shirts, this is the best of all possible places to start.
We can easily overlook the quality and performance of the staples in our closet because of their price-tag. The humble t-shirt, in this day and age is our uniform and an item of clothing we seem to spend more time in that any other in our closet. It seems a little strange then that we do not spend as much time choosing the perfect t-shirt as we would say, a great pair of heels, or a really snug pair of jeans that fit just so. Your t-shirt is you, it is your second skin and your uniform. Chose wisely and show the streets your perfect blank t-shirt style is connoisseur class.