10 Fun Facts
Since its inception, the t-shirt has become the most worn clothing garment in the world and a true pop culture symbol. So much so, the t-shirt has its own international holiday on June 21st. What another piece of clothing has its own day?
We can see the impact of the t-shirt's volume (culturally, economically, and environmentally) through unique facts and stats that come from various countries and industries worldwide. For example, did you know it takes six miles of yarn to make a "1" t-shirt, but only 1 acre of the cotton field to produce nearly 1,200 t-shirts? For that exact reason, cotton has been the paramount fiber used for t-shirt making for almost a century. In the United States, there are as many as 35,000 cotton farms, which consequently employ enough people to fill four football stadiums. The second most popular fabric for a t-shirt is Polyester.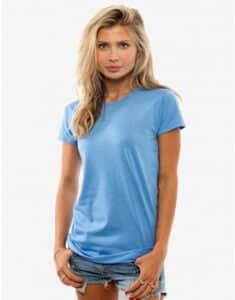 T-shirts are very common all over the world, but in the United States, there is a surplus of t-shirt production and ownership. Nearly 60% of Americans have more than ten t-shirts — enough to circle the earth 34 times! To put that in perspective, to make a full circle around the world, you would need nearly 56 million t-shirts. Because of this t-shirt obsession, the US Army receives millions of t-shirt donations per year. T-shirt donating and recycling is of chief importance in order to counterbalance mass production. T-shirt recycling keeps nearly 5 billion tons of textile waste out of landfills annually.
Our cultural obsession with t-shirts has allowed for hobbyists to display their love for the garment: A man named Datta Phuge owns a shirt made of more than 3 kilograms of solid gold. It's worth nearly $250000. Guinness World Records have been broken for the "most t-shirts are worn" – 257 – weighing over 200 pounds and for the largest t-shirt – 300ft long and 200ft wide!
No matter where you look a t-shirt can be found. In the hobbyist studio, on the army base, in your closet down the hall – the t-shirt's wearability, affordability, and ability to cross-cultural boundaries have made it a forever part of our lives.