WTF: Panda play ties t-shirt maker in a knot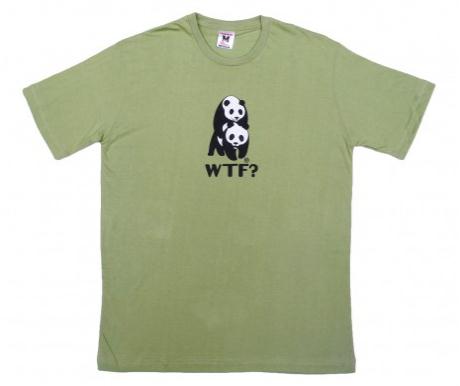 Laugh It Off's panda WTF t-shirt that is the centre of the dispute. Image courtesy laughitoff.co.za
Laugh it Off Promotions, the irreverent producer of satirical T-shirts which won an epic trademark battle against SABMiller in 2005, is getting a taste of its own medicine.
Jay Jays, the retailer of surf-themed clothing, has brought out a T-shirt very similar to one of Laugh it Off's trademarked items and is retailing it at half the price. Jay Jays originated in Australia, but is owned in South Africa by the Pepkor group.
This is all rather ironic because Laugh it Off specialises in adopting and adapting other companies' trademarks in order to pass social comment.
The best known example was its adaptation of SAB's Carling Black Label logo. It altered the logo – "America's lusty, lively beer, Carling Black Label beer, enjoyed by men around the world" to read "Black Labour White Guilt, Africa's lusty lively exploitation since 1652, no regard given worldwide".
SAB took exception to this, but the Constitution Court upheld Laugh it Off's right to freedom of expression, and said the trademark and sales of Carling beer had not been harmed by the sale of the T-shirts.
The Jay Jay T-shirt depicts the WWF panda bear having sex with the letters WTF under the image.
Bartlett (a pseudonym), the "voice" of Laugh It Off, is not seeing the humour, but does appreciate the incongruity of the situation.
"WWF is not our trademark, but WTF is our spoof (of WWF). We can't take ourselves too seriously, but our work is original and makes a social comment; it is locally designed and produced, and it hurts when someone comes along and makes a blatant copy."
General manager of Jay Jay's in South Africa, Shaun Hoddy, acknowledged that the design was not original, but said the image on Jay Jays' shirts was inspired by images on an American website. "If we have breached any trademark or copyright we will make it right. But we did not plagiarise that design from Laugh It Off, we were not even aware they had the same T-shirts.
"Google it," he urged. "That design is everywhere. If they are the originator of the design then they should be able to prove it."
Bartlett says he can prove the design is original. "I don't google for ideas. We value our originality and went all the way to the Constitutional Court to defend it."
What matters most, he adds, is the principle. "So there was no malicious intent. I accept that. But I have an issue with big companies like this trawling the internet, finding a quirky image, slapping it on to a Chinese-made T-shirt and then saying that because it is 'everywhere' they are not doing anything wrong."
Bartlett has proposed an amicable settlement. He would like Jay Jays to retail 1 500 of the Laugh it Off %-shirts. Alternatively he would like Jay Jays to pay the company royalties.
Hoddy is cautious. "I am not trying to shirk anything. I understand what it is like to be the small guy in the clothing industry. You need to protect what you have. But I want to be sure of where we stand legally. If we agree to his demand, we are acknowledging that we have done something wrong. We don't believe we have."
ÊÊÊ