Brad Pitt Might Be Wearing a T-Shirt Designed by His Kids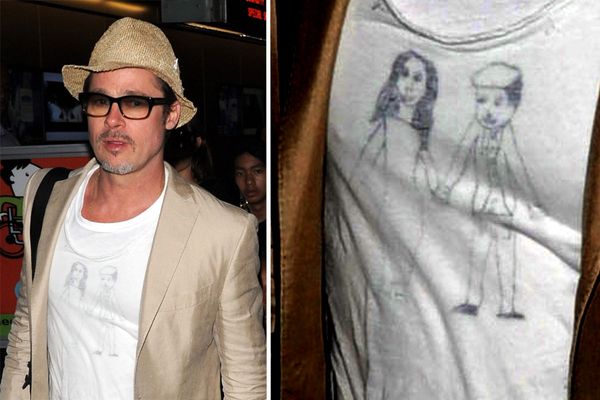 Brad Pitt exited LAX this weekend alongside Angelina Jolie and two of his kids. He wore a straw cap and a peculiar shirt. Well, it's a plain white T-shirt, but it has a whimsical line drawing on it of a couple holding hands. The lady is in a slinky dress with long hair, and the dude is wearing a jaunty, Brad Pitt-looking cap.
Anyway, it was not signed by the artist or anything, but it has a distinct my-kid-made-this-don't-question-it vibe. Or perhaps a trendy new designer has let his child take over the family business early. Or, even more likely, one of the Jolie-Pitt children drew this on Pitt's person while he was zonked out on the plane, and he won't even know about this nice portraiture until he gets home and looks in the mirror. Great kid prank. Children, take note.
ÊÊÊ