Grab Winter by the… Long Sleeve T-shirt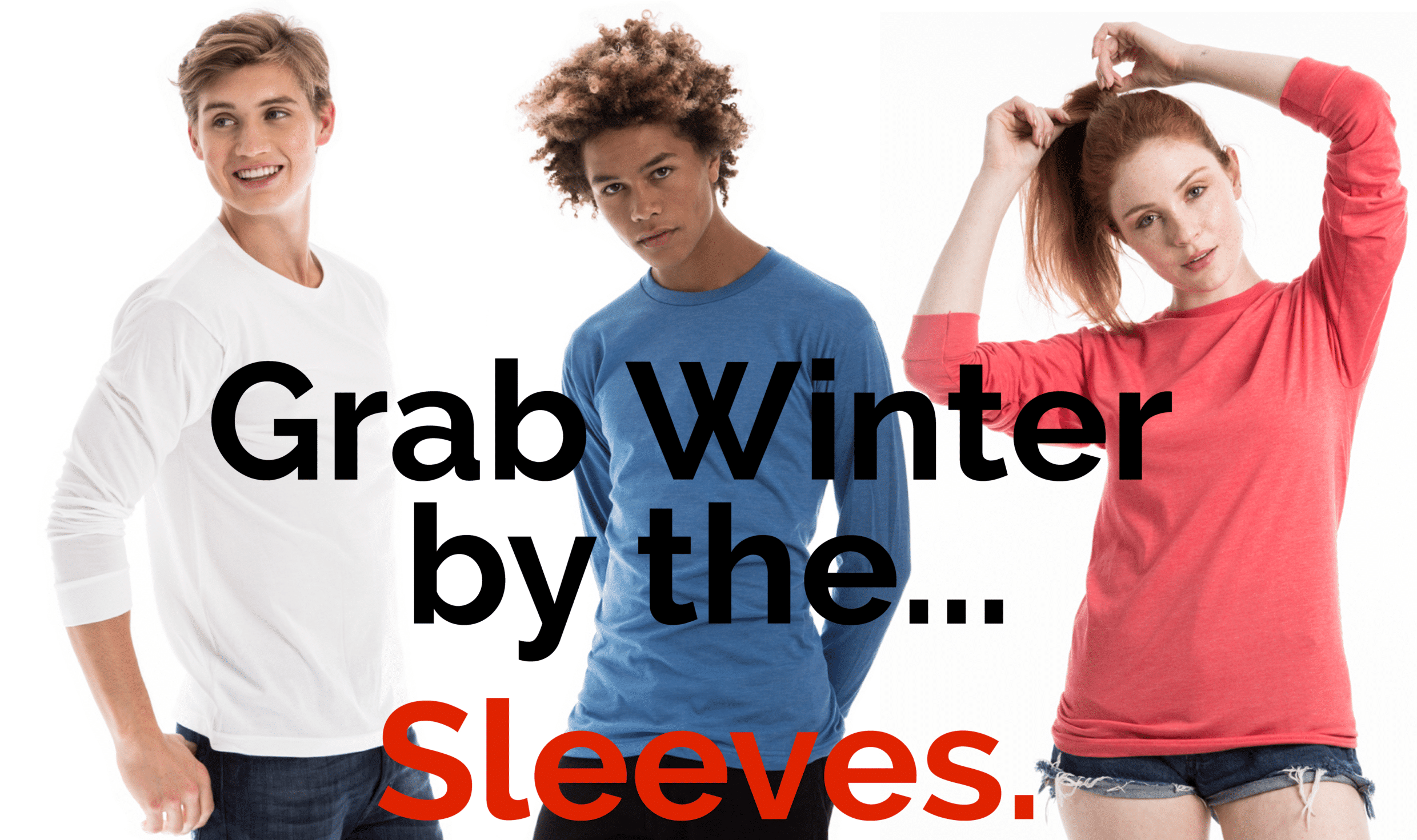 Are you looking for Fall and Winter options for your layered look? Sleeve it to SpectraUSA.
The most under-rated garment in your closet is, without question, the long sleeve t-shirt. Given any summer day it's probably not going to get a second look but come fall and winter this little wonder becomes the centerpiece for the perfect layered look and the practical workhorse of chilly fall and winter styles. Long sleeve t-shirt layers allow minute control of your personal climate as the colder days creep up on us and long sleeve tees give you the kind of flexibility that a short-sleeve tee never could. If you've got a long sleeve on, you've got options this winter
T-shirts have earned their reputations in the land of casual wear and warmer days and, come the fall we immediately turn to jackets, hats and scarves to save us from the chill in the air. But before you reach for a scarf, hat or hoodie, consider updating your look without breaking the bank and, at the same time, giving yourself more flexible options with a truly layered look which is stylish, timeless and worth a second look.
SpectraUSA's Monochrome Long sleeve t-shirt: Heather Grey, Black and Charcoal Bi-blend
The simplest way to "layer-up" this fall is the classic street wear long sleeve over short. Even better, you might consider using a favorite short sleeve tee with an awesome eye catching print over a contrasting long sleeve tshirt underneath. This look is as timeless as t-shirts themselves and as much a part of street culture as graffiti, skateboards and your favorite kicks. For active bodies who demand that little extra you can't beat Spectra's bi-blend technology with the additional stretch, give and strength of bi-blend in striking royal blue, sizzling charcoal and simmering red heathers. These classic Pop colors add a real snap to your fall look and will, no doubt, turn heads your way.
For the skateboards and sneakers set this is all good an well but preppy moms and soccer dads might not feel quite as well-adjusted sipping Saturday evening martinis around the barbecue in a holey Slayer t-shirt hoisted over a crisp white long sleeve. If this is the case, we would recommend you go with your favorite shortie beneath and above, one of Spectra's Black, Navy or Heather grey long sleeve looks for their clean lines and elegant yet understated appeal to ward off those chills. Our pristine white long sleeve t-shirt s a statement on its own and this garment says something about the wearer altogether more sophisticated. In the same way that the simple, plain white t-shirt is a fashion icon, so too is it's counterpart, the long sleeve white tee, a perennial yet understated closet favorite and, if you don't already own you should sit yourself down, give yourself a stern talking too and get over to our store immediately before the fashion police find out about you or worse… somebody snitches.
With the mercury falling and that extra little chill in the air long sleeve tees are more than just practical garments-they embody the kind of sensible options your look needs for layering up and keeping that wintry nip at bay. Beyond its streetwise sensibilities the sharp and prudent fashion choice of the long sleeve t-shirt is the embodiment of fall fashion options. When your hoodie is way too much to throw on after gym or yoga, when you are cooling it around the fire pit, just out of the water after a surf or looking for something to slip on over your favorite tee for a ride on the bike, the long sleeve tshirt is the answer you are looking for. The unique unisex cut of these premium garments means that its tailored features and clean lines offer a slimming look to both the male and female torso whilst its clean, classic lines are always fashionable. Spectra's long sleeve palette is available is gorgeous Royal and Red Heather Bi-blends as well as in 100% cotton Navy, Heather Grey, Black and White.
SpectraUSA's Long Sleeve t-shirt: Red Heather. Navy and White