Fashionable Ways to Style a Hoodie
Pop of Sophistication with a Blazer
A simple black hoodie underneath a tailored blazer, elevates the look and makes it more than appropriate for an outing or office. What's great about adding a blazer layer is that any form of bottom (leather pants, jeans, skirt, shorts) get a sophisticated touch.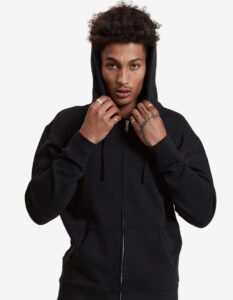 Punk it Out
Adding some punk pieces to a hoodie can make your outfit more interesting and evoke more personality. A plaid skirt or lace up combat boots complete the look and definitely add more flair!
Oversize!
Rihanna introduced us to an oversized hoodie look and we have never looked back! Trade in your sweatsuit for an oversized hoodie and skirt and heels to make your hoodie sexy. Never be afraid to buy that big men's hoodie– it makes a perfect night-approved outfit!
Funk Out Your Pants
"Casual on the top, party on the bottom" is the way to perfectly dress down a funky, loud or patterned part of pants. Pairing a hoodie with bold pants creates an effortless look that has a pop of flair without being too wild.