Turn Your Shirt Into A Facemask
Face masks have become a commonplace accessory in the last year. Wearing a mask in public, as recommended by the CDC, is one of the simplest things you can do to slow the spread of Covid-19, especially in situations where it is difficult to maintain social distancing measures, like in grocery stores.
Masks that cover your mouth and nostrils with two layers of fabric are most effective in reducing the spread of coronavirus. You can turn your shirt into a facemask at home using just an old t-shirt made of washable and breathable fabric. Below are instructions for two different ways to recycle a t-shirt into a facemask:
Don't have a sewing machine? No problem!
No-Sew Mask
You'll need:
A t-shirt cut into a 20×20 inch section
Scissors
Rubber bands or hair elastics
Step 1 – Lay your piece of fabric flat on a surface. Fold one half over the other.
Step 2 – Then, fold the top third down and the bottom third up
Step 3 – Place 2 rubber bands on each end of the strip of fabric, with about 6 inches in between
Step 4 – Fold in each side of fabric around the elastic so that the two ends meet in the middle. Tuck the sides into each other, making the piece of fabric continuous.
Step 5 – Secure mask to your face by looping the elastic around each ear.
Have a sewing machine? Great!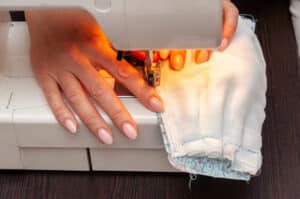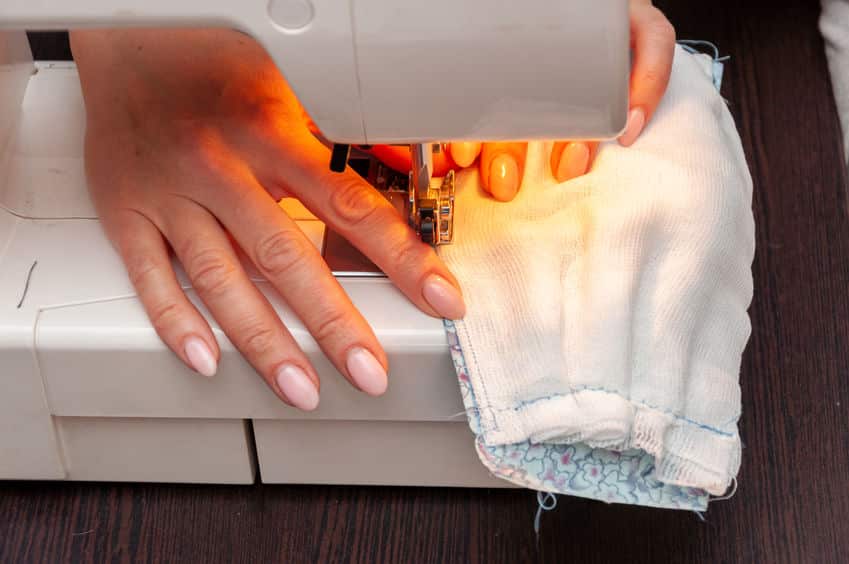 Sewn Mask
You'll need the following materials:
Sewing machine
A t-shirt
Scissors
Two (2) rectangles of cotton fabric (roughly 10 x 6 inches, but you can measure the bottom half of your face for a more custom fit)
Two (2) 6 inch pieces of ⅛ inch wide elastic (if using string cut longer pieces that will tie around the back of your head)
A needle and thread (or a bobby pin)
Step 1 – Lay t-shirt flat and cut out two rectangles measuring 10 x 6 inches (or your custom measurements). Overlay the two rectangles to be sewn as a single piece of fabric.
Step 2 – Fold over the long sides of the rectangle ¼ inch and sew a hem straight across on each end. Then, fold the short sides over ½ inch and sew a hem on each end.
Step 3 – Run a piece of elastic through the wider hems on each side of the mask. You can use a needle or bobby pin to thread it through the opening. Tie the ends of the elastic together.
Step 4 – Pull on the elastic so that the knots are tucked securely inside the hem. Cinch the sides of the mask to fit your face. Then, secure the elastic in place by stitching it to the fabric at the opening of each hem.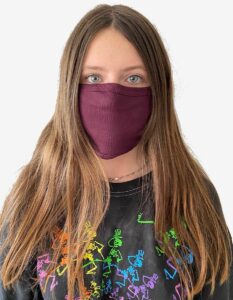 When wearing your mask, make sure it:
Fits securely, but comfortably on your face without and loose gaps
Completely covers your nose and mouth
Includes at least two layers of fabric
Is breathable and does not restrict breathing
Can be washed