According to a new study led by aerosol scientists at Virginia Tech University, face coverings (such as masks made of cloth) are extremely effective protecting people who wear them, but also the people around them. Linsey Marr, the leading aerosol scientist for the study said in a media presentation last week, "Filtration works both ways". This means that cloth masks filter both particles coming out of a person's mouth and reduce exposure to a person.


The study tested 11 different types of face coverings commonly used. Nine cloth masks made from coffee filters, cotton and other fibers, a surgical mask and a face shield. Marr and co-author Jin Pan took simulated coronavirus particles and 'challenged' the materials. They found that the materials exhibited 75% filtration capacity. We can assume that a mask made of high quality fibers and consists of three layers could make filtration as high as 90 percent. As Marr stated, this filtration works both ways — for incoming and outgoing particles.
There is a difference of protection between wearing a surgical mask and a bandana or other loose fitting face. Former Food and Drug Administration head Scott Gottlieb encouraged people to use N95 masks and surgical masks to be efficient. What Marr's recent study found was that cloth masks do in fact work better than what others have claimed. Through research, we have found that various-bearing particles are larger than we presumed. The new study was critical for us to understand the benefits of cloth masks. Not only do they protect us, but they are more stylish and easier to wear.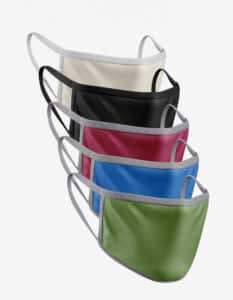 This study is another step at scientifically proving mask wearing is imperative
to protecting yourself and others around you. It supports the growing consensus that a good, high quality cotton mask will go a long way in protecting ourselves from coronavirus. President-elect Biden has been in talks in implementing a national mask mandate and has even called wearing masks 'a patriotic duty'.
If you are looking for high quality, protective and stylish masks, SpectraUSA offers 2 Ply cotton masks that are washable and reusable. Made with premium ringspun cotton with a silicone finish, Spectra's masks are extremely comfortable. With every color option at the tip of your fingertips, you were sure to find a mask that would fit your style and keep you safe.