Promotional T-Shirts are one of the best marketing tools for businesses. Promotional items are used in a quick and effective manner in order to spread brand awareness in a large market. T-shirts are a great addition to marketing campaigns because they outlast all other advertising functions, they are economical to produce, they promote team spirit, and all advance widespread brand recognition.
Align Goals & Design
Ask yourself the question: Why do you want to create a branded T-shirt? Is it help to spread brand awareness, for team spirit, or specifically for customers? Depending on what your T-shirts are for, your approach to design will be different. If the T-shirt is to simply be worn internally, a company logo might suffice, but for a customer, a more eye-catching design-centric T-shirt would function better. If a company creates a T-shirt that is stylish and hip, people who are not associated with the company might also be more inclined to wear it — a win for marketing!
Creation Options / Manage Logistics
Determine your logistics before making your T-shirts. Creating a budget will help you manage how many T-shirts you will need and in what sizes. Material and fabric will also have an impact on your budget. You want to make sure you are presented with a variety of the best options — at Spectra you can see the array of unique styles and sustainable fabrications.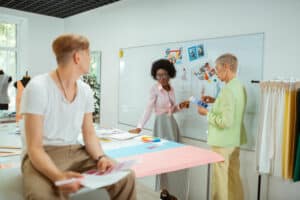 Printing Options
Screen printing is the traditional method of custom t-shirt design. Screen printing involves pushing ink through a woven mesh stencil onto fabric. Screen printing produces high quality results because each color used in the design is printed on its own screen. Because of the use of individual screens, a design must be broken down into different layers according to color. Due to the tedious nature of the screen printing method, it is best used on designs that have few different colors. Designs that involve typographic or bold graphic designs work best for screen printing. Those who are making larger batches of custom t-shirts (more than 10 shirts) usually opt for screen printing.
Unlike screen printing, DTG uses a digital printer to apply ink directly onto the fabric. Similar to the inkjet printer at home, the DTG printer translates a specific image of graphic onto the t-shirt.
With the technological advancements of DTG, printers have the capability of handling a variety of designs in many different colors. Due to its ability to manufacture precise designs with a high level of detail, DTG printing is ideal for elaborate designs that call for a variety of different colors.
Find A Company You Trust
Making sure your T-shirt manufacturer aligns with sustainable standards and complies with social compliances is essential in order to ethically produce your business' T-shirts. For example, Spectra's 3400SS Organic Cotton, Recycled Poly Fitted Tee. This side-seam masterpiece of eco-friendly design is made with a slimmer fit in environmentally friendly organic cotton and recycled polyester blends.
SpectraTees creates premium quality blank t-shirts and activewear in California, USA. We pride ourselves on our North American manufacturing base located in California, where we conceptualize and design our garments as well as knit and dye all of our raw textiles. Our expert engineers cut, sew and finish every Spectra premium apparel garment in our two vertically integrated production hubs in Baja, Ensenada.