BY Sid Lowe from theguardian.com
The official garments being sold on Copacabana beach include some countries which didn't even qualify for the tournament!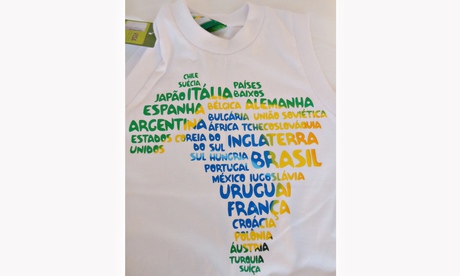 It could be the perfect gift from the World Cup – the gift that sends a message of joy and fraternity, bringing the world together in one country. But there is one, tiny flaw. Or, more accurately, there are 11 not so tiny flaws.
At the official Fifa shop on the Copacabana beach, they are selling T-shirts that show the outline of Brazil made up of the names of the countries that are competing at this summer's World Cup, in the green, yellow and blue of the flag.
What better way of bringing everyone together? What better way of welcoming fans from the countries competing at the World Cup to Brazil, to make them part of the whole colourful carnival? Oh, wait.
Look a little closer and things don't look so perfect. It is not just that not every country at the World Cup is included on the T-shirt, it is that some countries that did not reach the tournament are.
Then there are the countries that are no longer countries. None of Africa's representatives are included either, but South Africa is. Just like Sweden, Bulgaria, Hungary, Poland, Austria and Turkey are. None of whom are here.
And did no one at Fifa notice the Berlin Wall falling? Or maybe they were caught out by recent news. It has only been a quarter of a century, after all.
Fifa's official T-shirt makers have managed to include Croatia… and Yugoslavia. Then there's Czechoslovakia. And who's this? Oh, look, it's the Soviet Union. Well done, Sepp.
ÊÊÊ