From scmp.comThe icon-emblazoned clothing forms part of a touring show which opens up the band's world to fans – from their fledgling beginnings to backstage at their sell-out concerts(HILFIGER)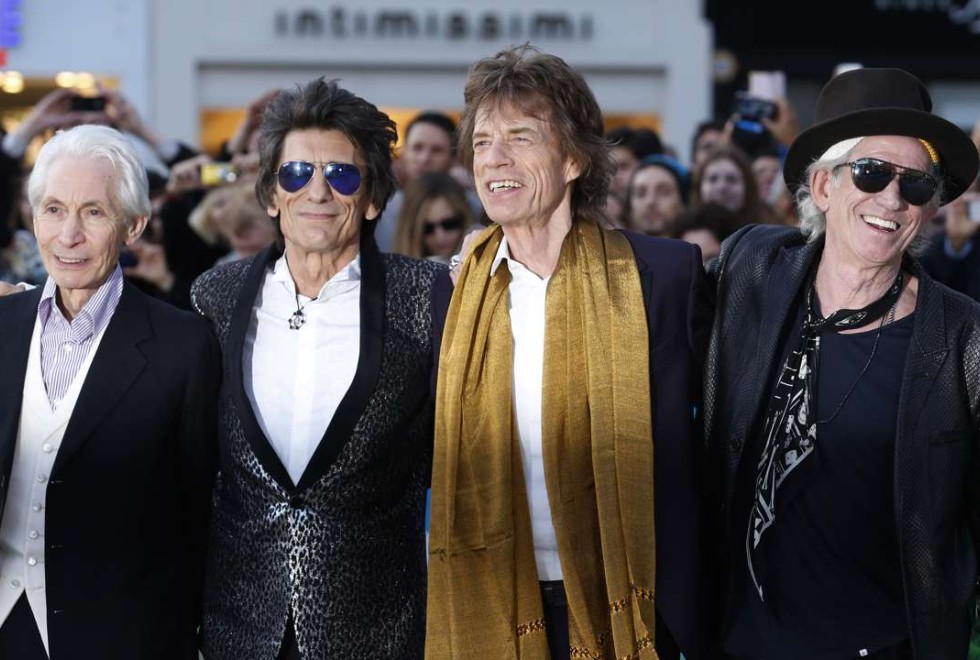 After more than 50 years of rock 'n' roll, the Rolling Stones are still pushing boundaries with their first exhibition showcasing hundreds of items from their long-running career, from Mick Jagger's jumpsuits to Keith Richards' guitars.(HILFIGER)
Billed as the "first ever major exhibition by [the group] and the largest touring exhibition of its kind ever to be staged", "Exhibitionism" at Saatchi Gallery in London opens up the Stones' world to fans – from their early, impoverished days sharing a run-down London flat in 1962 to backstage at their multimillion-dollar concerts.
US designer Tommy Hilfiger is the official apparel sponsor for the show and has designed a limited-edition Hilfiger Denim capsule collection of graphic T-shirts and custom jackets featuring the band's imagery and iconic tongue logo.
"The Rolling Stones were one of the first bands I fell in love with as a kid, and their music has remained a huge source of inspiration for me," says Hilfiger. "I'm honoured that the Stones have grown to become long-time friends and we have had some amazing collaborations together, including our sponsorship of their 'No Security' tour in 1999.
The limited-edition Hilfiger Denim capsule collection features five T-shirts for men and five for women, with graphics ranging from the gorilla on the GRRR! greatest hits album cover to the band's iconic tongue logo rendered in a UK flag motif and a Pop Art-inspired montage.
The exhibition features instruments including guitars played by Richards and Ronnie Wood and Charlie Watts' drum kit on display at London's Saatchi Gallery alongside Jagger's lyric book.
About three years in the making, the display features more than 500 items from the band's archives.
"Obviously it's not infinite but it's still going and we're trying to push things that have never been," says Jagger, 72. "I don't think there's been anything like this [exhibition] before. I mean, I don't know, I don't think so. So, you know, still trying to push boundaries a bit."
For those who have yet to see the Stones live, a re-creation of their concert backstage area – with make-up table, audio instructions, guitars – leads to a 3D experience of seeing the band rock on stage to (I Can't Get No) Satisfaction.
The exhibition also recreates the messy London flat Richards and Jagger shared with late founding band member Brian Jones, with dirty plates piled up and unmade beds.
"It's an incredible walk through your own life, you know? For me, it's quite emotional in a way," Richards says.
Fans can also peek inside a Rolling Stones studio and see a selection of classic album covers, tour posters, Andy Warhol works and depictions of the band's tongue-and-lips logo.
Their colourful fashion is also featured – from Watts' 1966 tartan suit, to Jagger's 1972 velvet jumpsuit, Richards' 1994 antelope coat and Wood's 2005 embroidered jacket – with many other elaborate concert outfits on display.
"There's a magic that happens every time we get together for rehearsals, for a new tour, or when we go in the studio," Wood says of the band's enduring success.
The Stones just completed a Latin America tour, which ended with an historic concert in Cuba.
They are now aged in their late 60s and early 70s, and "a lot softer, a lot wiser" according to Watts, but have no plans to retire just yet.
"Hopefully… we'll never give up. They'll have to shovel us in the grave. We feel like we're still evolving and I think you have to feel that way," Richards says. "Every show that you do, you say the next one is going to be a little bit better."
Exhibitionism runs at the Saatchi Gallery until September 4, after which it will tour 11 cities around the world over a four-year period.
åÊåÊåÊ