A swag vs. swag comparison
While some campaigns have yet to open an official store-Donald Trump, despite an entire ecosystem of merchandise, apparently hasn't found time to stick a Trump "T" onto a tee and sell it-Bloomberg acquired official campaign T-shirts from seven presidential hopefuls. An eighth, Bobby Jindal,Ê won't have official tees available until July 17. While every shirt was proudly advertised as "Made in the U.S.A.," only one shirt was union-made, and only two were union-printed. (Guess whose campaigns those belonged to? Hint: not Rand Paul.)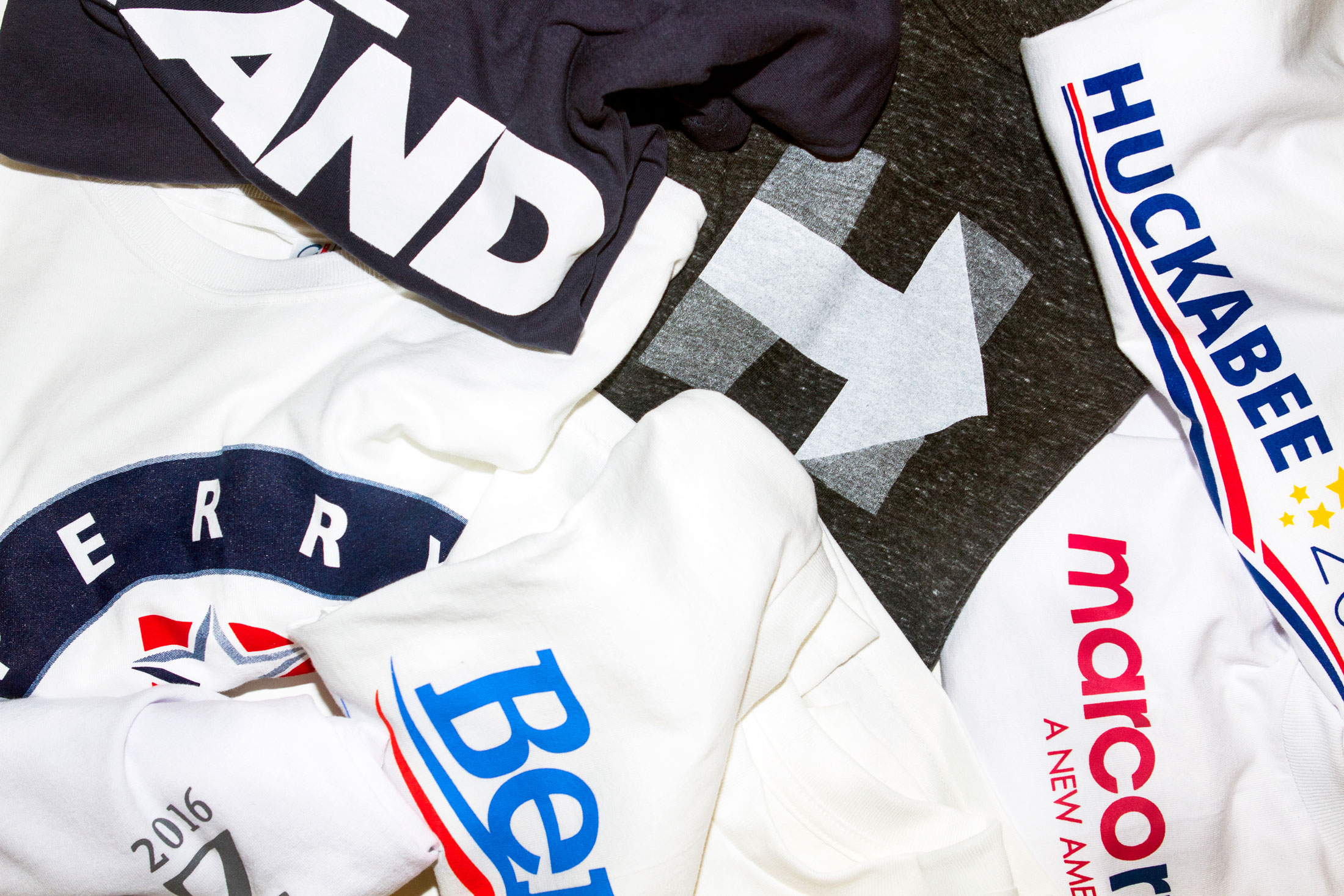 Campaign Strategies
Given the fact that there are now about 20 presidential contenders (and counting) doing their respective best to set themselves apart, it might be surprising that a mere 37 percent of them have official T-shirts for sale.
The hesitation on the part of some campaigns, says Peter Schottenfels, a former operative for Barack Obama's campaign in Colorado, reflects scale and priorities.
"There's a precise art to ordering T-shirts," says Schottenfels. "You try to sketch out how many events you're going to have, how many supporters you're going to have; it all depends on the size of the campaign." The absence of apparel for sale at some campaigns could be a deliberate strategy, he continues. "It's a small piece of a big puzzle. They could just be giving them out instead."
The seven campaigns in question have used five different apparel labels: Port and Co., Union Line, Bayside, Royal Apparel, and American Apparel. Abdul Rashid, chief operating officer of Bayside, says that multiple candidates have ordered tens of thousands of tees, and one candidate-he won't say who-has ordered over 100,000. When others join the fray, he continues, the process of ordering the shirts is easy. "We have millions of T-shirts in our warehouses, ready to ship."
Pricing for the shirts vary widely. Rand Paul's tee was easily the cheapest at just $20.75, including shipping and handling. Bernie Sanders and Rick Perry were the only other candidates whose shirts fell under the $30 threshold. Tees from Hillary Clinton and Ted Cruz were the most expensive, by far-$36.69 and $36, respectively. For context, a graphic T-shirt from high-end retailer Steven Alan goes for $32, and Wal-Mart sells more than 20 graphic tees for less than $5.
The following is the complete list of official campaign T-shirts as of press time. Collect them all and win the admiration/ire of your friends and family.
Hillary Clinton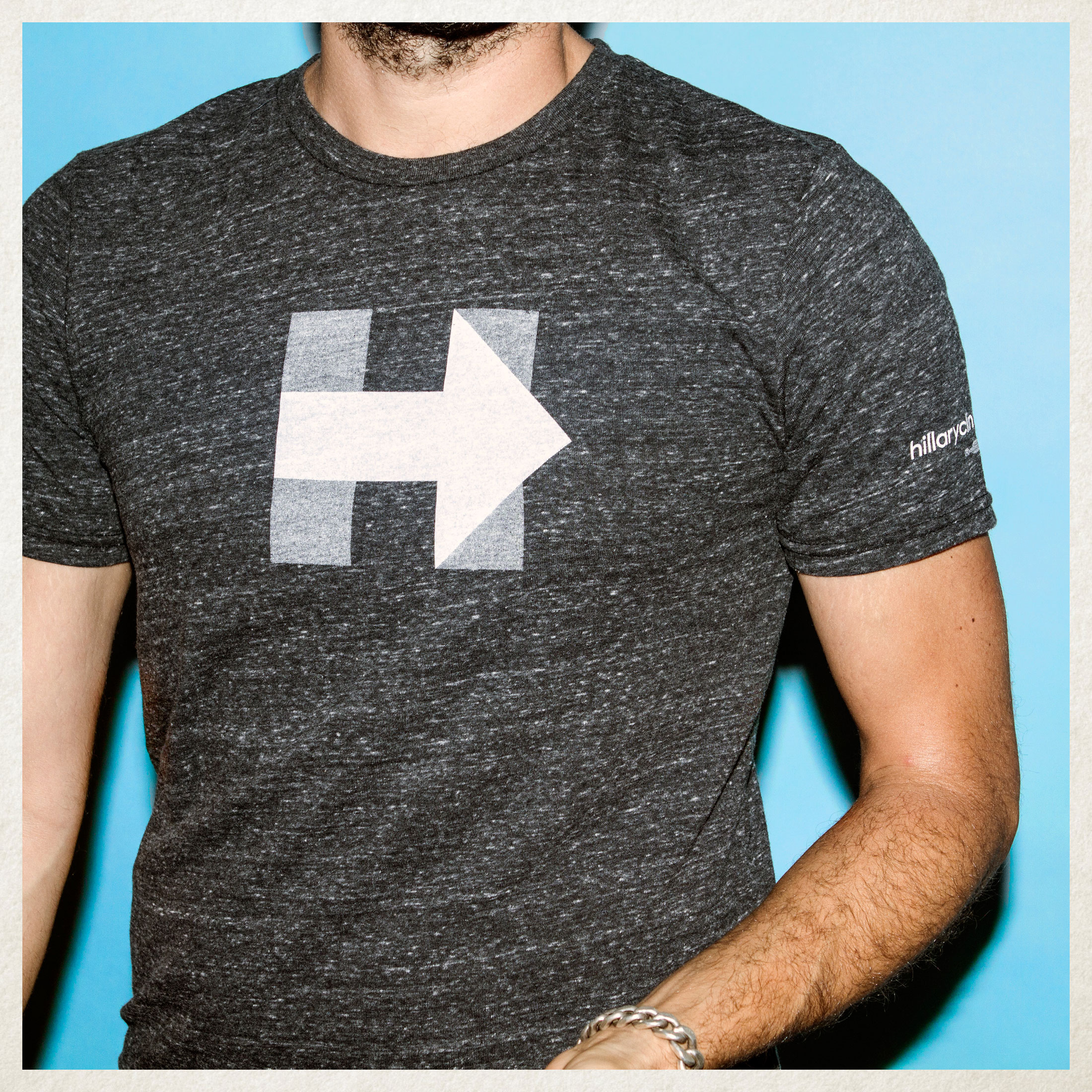 Party: Democratic
T-shirt: $30 + $6.69 shipping
Manufacturer: Royal Apparel, Hauppauge, N.Y.
Clinton Store Slogan: "Everyday items made by everyday Americans"
Fun Fact: Defying convention, Clinton's shirt is heather grey and features a graphic logo-no flag motif or red, white, and blue in sight. The only adult-sized option with a plain white background is a "Hillary Pride" tank top with a rainbow logo
shop.hillaryclinton.com
Ted Cruz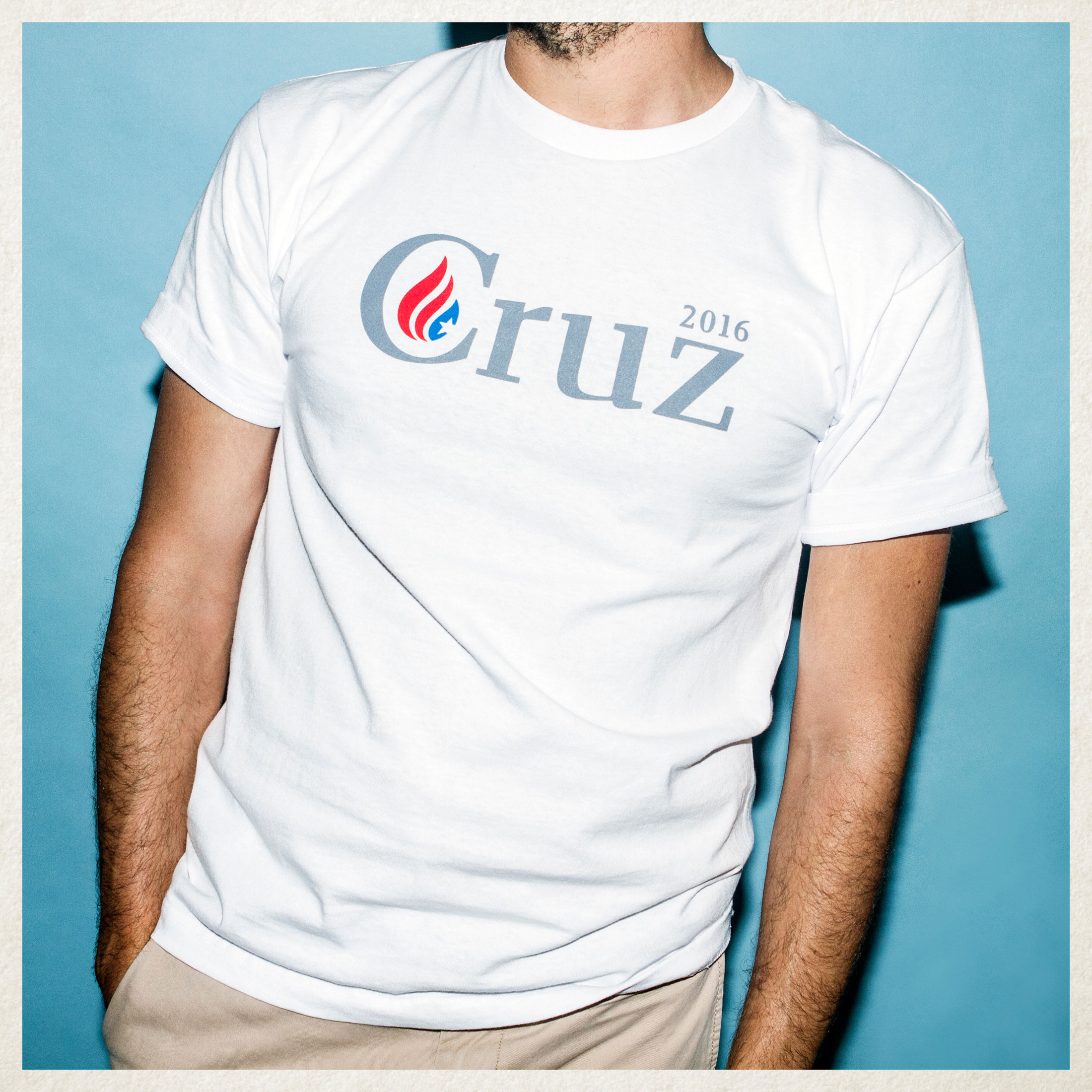 Party: Republican
T-shirt: $30 + $6 shipping
Manufacturer: Bayside, Brea, Calif.
Shirt Slogan: "Courageous Conservatives-Reigniting the Promise of America"
Fun Fact: In keeping with the flame theme, the Ted Cruz logo seems to be an American flag on fire, which might be sending the wrong message
store.tedcruz.org
Mike Huckabee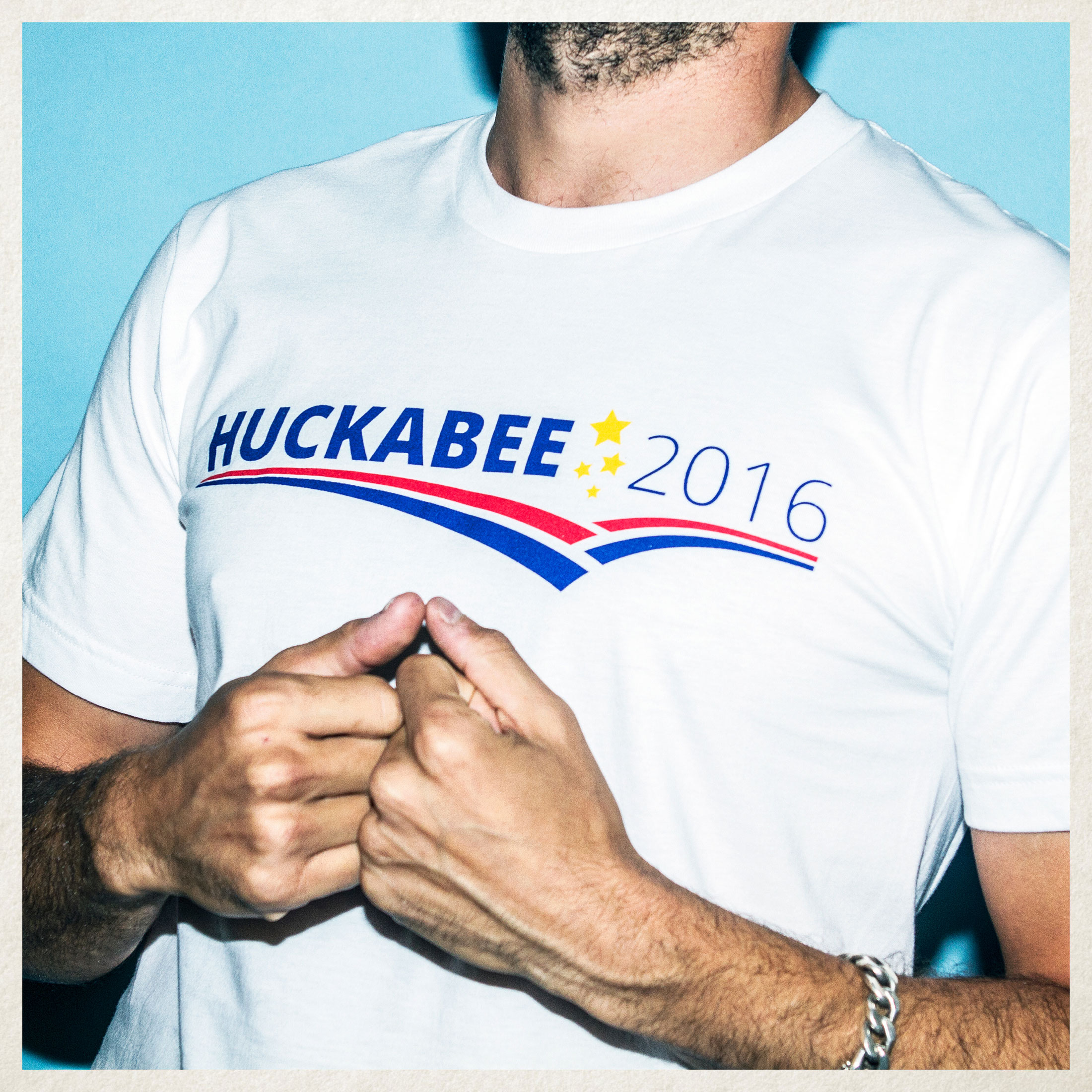 Party: Republican
T-shirt: $24 + $7.74 shipping
Manufacturer: American Apparel, Los Angeles
Slogans: The store seems to vacillate between two: "I like Mike" and "I'm with Huck," though the T-shirt itself bears neither.
Fun Fact: American Apparel isn't with Huck on a few key issues.
store.mikehuckabee.com
Rand Paul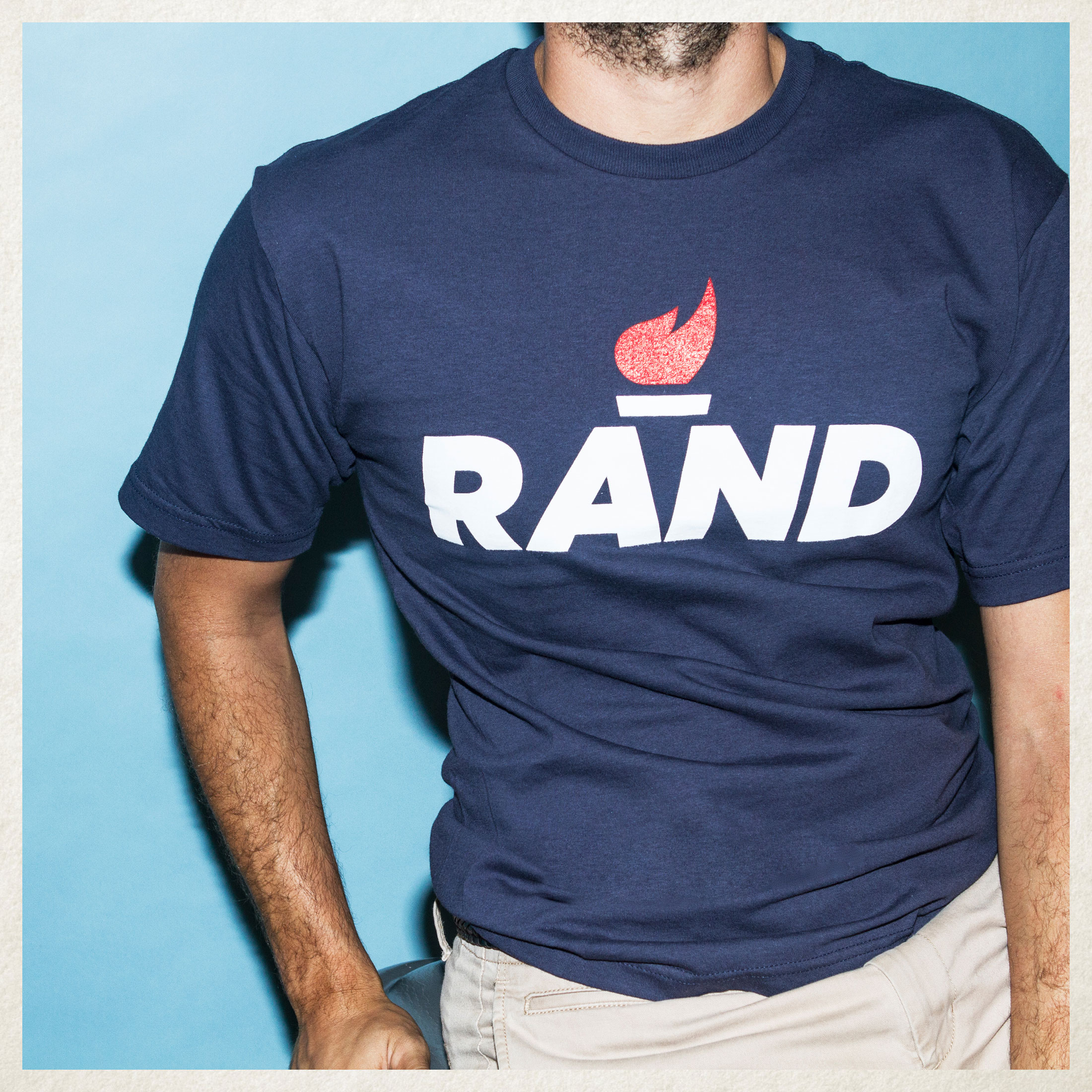 Party: Republican
T-shirt: $15 + $5.75 shipping
Manufacturer: Bayside, Brea, Calif.
Slogan: "Unleash the American Dream" (the most prominent of many)
Fun Fact: The Rand Paul store has an entire section of anti-Hillary swag. ("Liberty not Hillary.")
store.randpaul.com
Rick Perry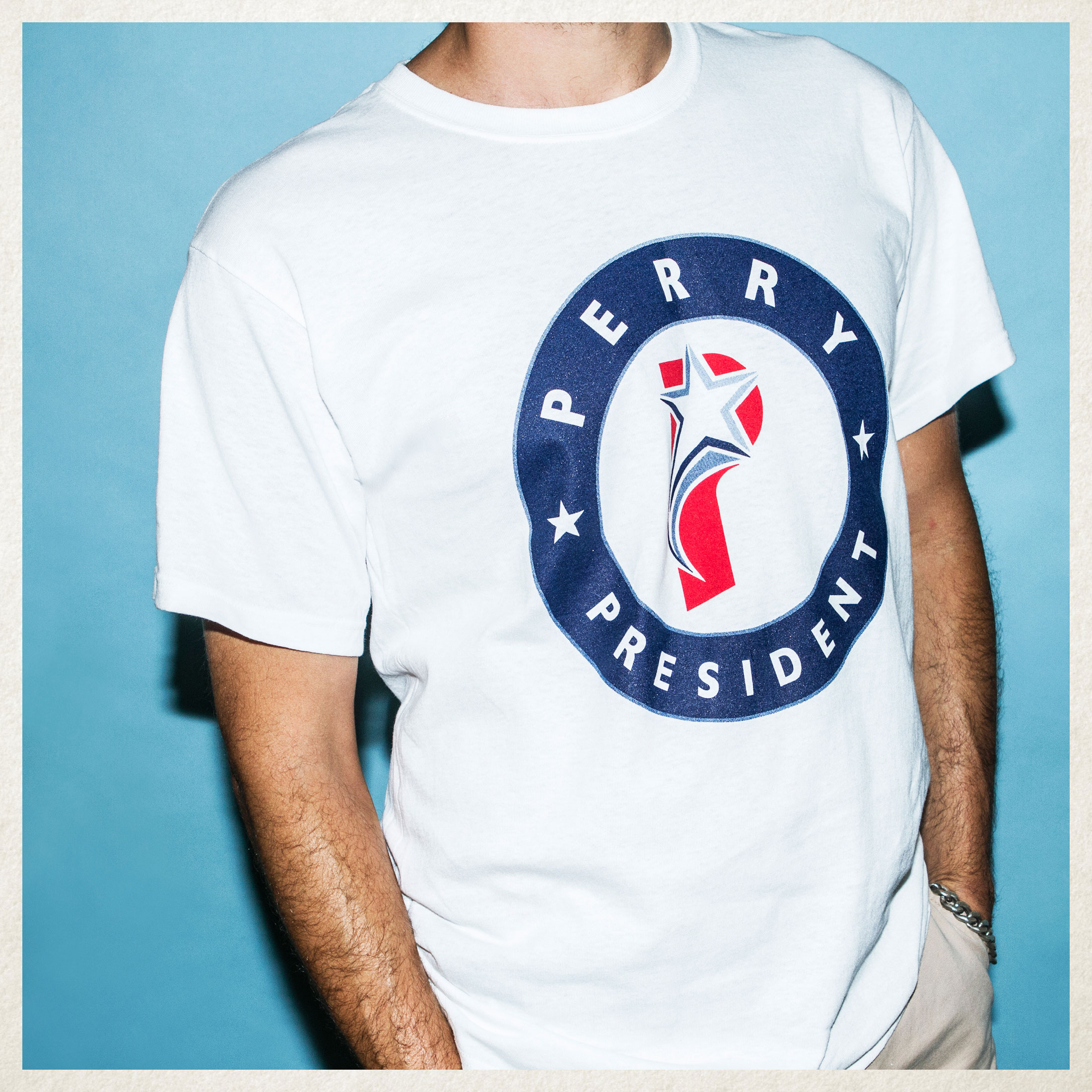 Party: Republican
T-Shirt: $15 + $14.10 shipping
Distributor: Port & Co. (owned by SanMar in Issaquah, Wash.)
Shirt Slogan: "Perry President"
Fun Fact: It was the first shirt to arrive.
store.rickperry.org
Marco Rubio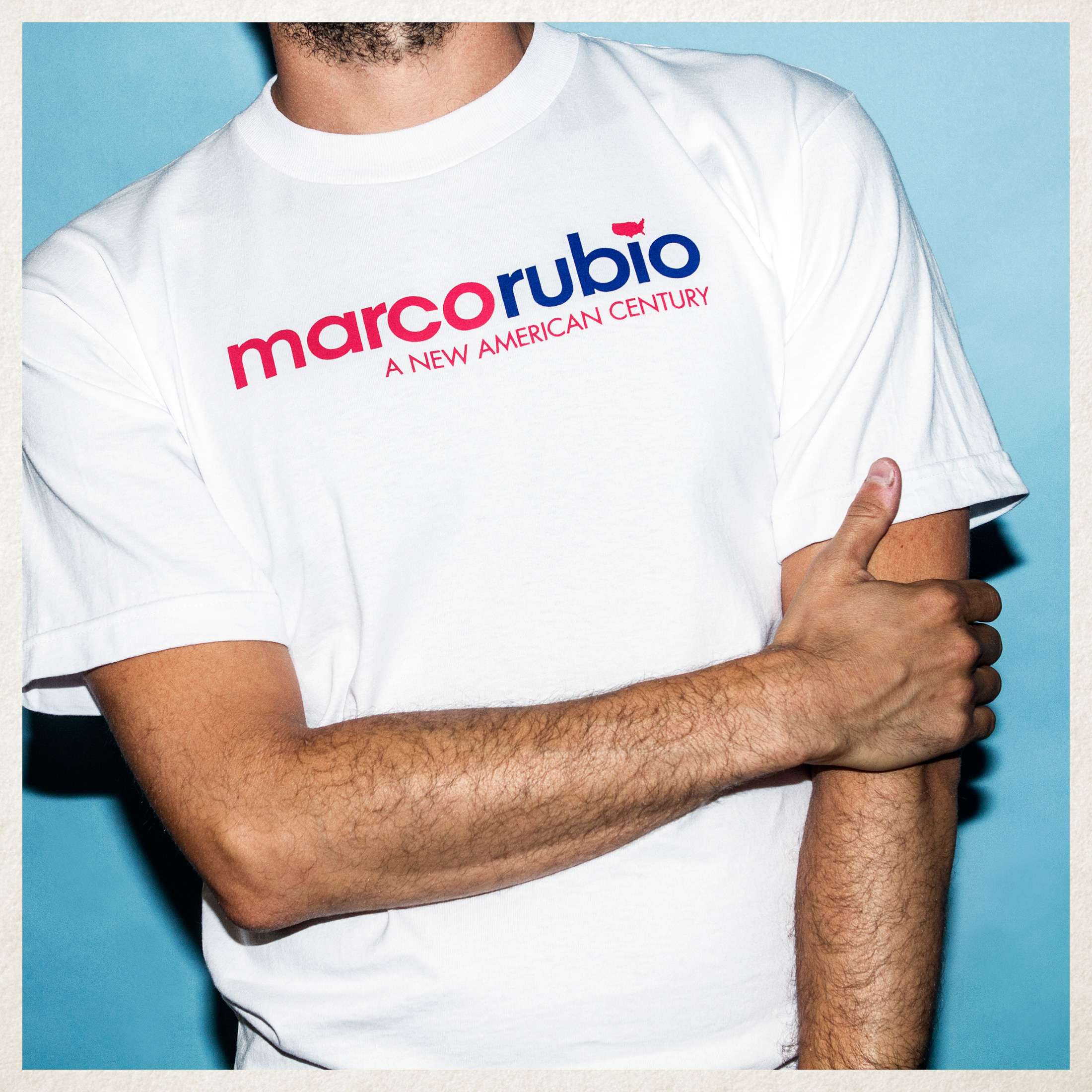 Party: Republican
T-shirt: $30 + free shipping
Manufacturer: Bayside, Brea, Calif.
Slogan: "A New American Century"
Fun Fact: The century started 15 years ago
store.marcorubio.com
Bernie Sanders
Party: Democratic
T-shirt: $15 + $7 shipping
Manufacturer: Union Line, Chicago
Shirt Slogan: "Join the Political Revolution Today"
Fun Fact: It was last to arrive.
store.berniesanders.com
Where They Came From
The U.S. now exports fewer than $6 billion worth of garments per year, compared with $80 billion in imports. From 1990 to 2011, around 750,000 U.S. apparel manufacturing jobs vanished, slashing the workforce by more than 80 percent, according to data from the Bureau of Labor Statistics.
Given that prolonged decline in American garment production, the seven campaigns coalesced around five different apparel labels-Port and Co., Union Line, Bayside, Royal Apparel, and American Apparel-although even those can be fronts.
Rick Perry's shirts, made by Port and Co., bear the labels of the garment's distributor, rather than its manufacturer. (Port and Co. is owned by SanMar, which did not respond to a request for comment.) The Bernie Sanders tee was made by a small union company in Illinois, though the bulk of Sanders campaign merchandise has come from a different company altogether: a union factory that belongs to Bayside (owned by AST Sportswear) of Brea, Calif. Bayside's two T-shirt labels used variations of "USA" and "America" 10 times for various candidates.
ÊÊÊ