The cheapest single seat I can find in Amalie Arena's Chase Club is $658.
That will get you in the door for Game 1 of the NHL Stanley Cup Final, where you'll watch the Tampa Bay Lightning host the Chicago Blackhawks with the added benefits of all-you-can-eat small plates and all-you-can-drink booze.
Unfortunately, if you're a Blackhawks fan, $600 won't pay for the jersey on your back. You'll have to take that layer off, thanks to a visiting-team rule the Lightning plan to enforce at their home arena throughout the upcoming series.
Puck Daddy's Greg Wyshynski confirms the Lightning are following through with a dress code barring Blackhawks fans from wearing team apparel in the Chase Club and Lexus Lounge areas under threat of relocation.
Here's the policy, per Wyshynski:
Chase Club and Lexus Lounge ticket holders: Please note that for all 2015 NHL Playoff Games at Amalie Arena, only Tampa Bay Lightning apparel (or neutral) will be permitted in these club and adjoining seating areas. Fans wearing visiting team apparel will be asked to remove them while in these areas.
This stipulation is thrown up front and center for fans perusing these areas on TicketMaster.com: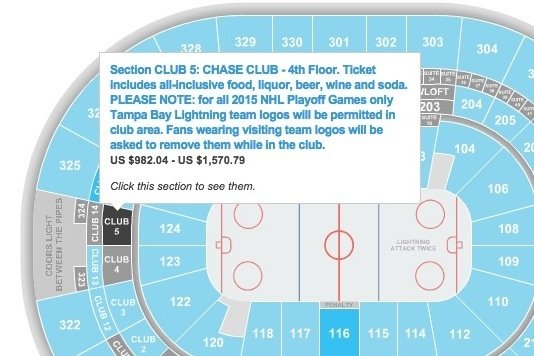 @DrCarson73
Couple this with Tampa Bay's playoff ticketing policy, which gives buyers with Florida addresses first crack at seats, Chicago fans find themselves in a similar pickle to the one they faced in the first round when the Nashville Predators attempted to block buyers with Chicago addresses from purchasing tickets to the series.
But unlike the Predators, who eventually backed down on the embargo, Tampa Bay isn't budging.
Bill Wickett, the Lightning's executive vice president of communications, told the New York Times' Tom Spousta in May that the team has no plans to change or apologize for the arrangement.
"We're not going to apologize for the policy," Wickett said. "We want to create as much of a hometown environment for the Lightning players and our season-ticket holders as we can, and we've been somewhat successful with it."
Chicago mayor Rahm Emmanuel has since commented on the policy in a press release, saying Tampa shouldn't be scared to welcome Chicago fans to Tampa Bay:
Chicago Blackhawks supporters are known to be among the best in the NHL, and certainly we wish the Tampa Bay Lightning management would welcome Chicago fans to their city and not be afraid to let them into their arena for the Stanley Cup Finals. As mayor of Chicago, I welcome Tampa fans, and hockey fans from around the country, to fly to Chicago and enjoy our world-class hotels, restaurants, cultural attractions and then go watch Stanley Cup hockey in Chicago.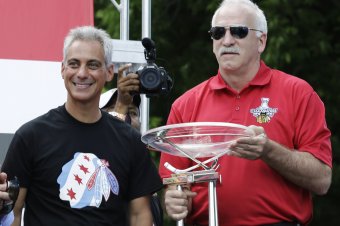 Photo by Nam Y. Huh/Associated Press
As someone who has lived in both cities, I get where both franchises are coming from.
Tampa is a small town that doesn't have much to rally around, sports-wise. Their strip clubs are better attended than their baseball games, and now that playoff hockey is back in town, the team is doing everything it can to protect its interests from the invading Mongol hordes. They want to win, and they want to reward their stalwart (and bandwagon) fans in the process.
Conversely, Blackhawks fans are a red army of hairy-knuckled bellowers, and having won two Stanley Cups in the last five years, their excitement for another trumps any obstacle that may present itself before them. You put up a wall and they're knocking it down, because Patrick Kane is god, and his divine mandate supersedes your quaint small-market rules.
Anyway, I do hope everyone gets to watch hockey-good hockey, as this series promises to be-and enjoy the games from the comforts of their own team kits. It just feels better that way.
ÊÊÊ