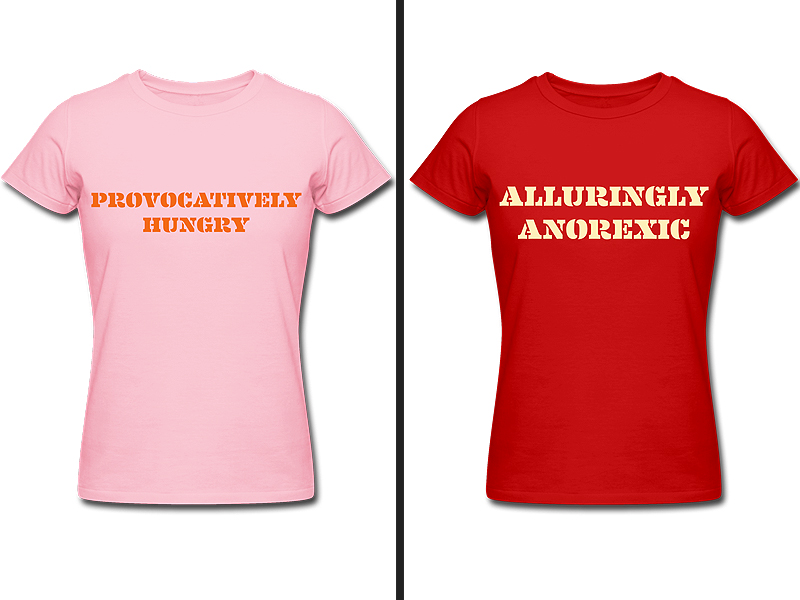 COURTESY SPREAD SHIRT
"Beautiful," "alluring" and "graceful" are not words usually associated with eating disorders –
serious, life-threatening illnesses
that impact millions of people every year in the United States.
However, those are the adjectives used to describe anorexia and bulimia on T-shirts available on
Spreadshirt.com
, an international seller of custom merchandise. (The cringeworthy shirts are designed by user IOANAcolor and
include slogans
like "Beautifully Bulimic," "Alluringly Anorexic," "Gracefully Gaunt" and "Breathtakingly Bony.")
The company's CEO Philip Rooke is now the subject of a
Change.org
petition started by Matan Uziel, a resident of Israel who was outraged by the site's products.
"Apparel websites unfortunately have been promoting and glorifying fashion's deadly diseases "_ by providing platforms for ignorant individuals," Uziel writes.
Uziel – who notes that the site also sells "Nazi chic" merchandise – hopes to convince Rooke to remove the T-shirts from the website.
"We are deeply disappointed to see such offensive listings by Spreadshirt, because these are outright wrong," he says. "By keeping the T-shirts, Spreadshirt is playing a great role in trivializing the physiological and [psychological] complications of anorexia, bulimia and other eating disorders."
Rooke defended the sale of the controversial shirts on his site in a statement to PEOPLE.
"We are very proud of the fact that we allow artists, designers, campaigns and many different people to express their ideas on merchandizing," he said. "In the case of these eating disorder T-shirts, the intent of the artist is to highlight the issue of societal pressure for women to have a body like a supermodel with statements that make you think. None of the items published reflect or represent the views of Spreadshirt, nor should the views of Spreadshirt and its employees be used to govern what sellers can place for sale."
"Unfortunately, we regularly experience individuals who appoint themselves as the judge and jury of what is acceptable in society," the statement continued.
"It is very easy to merely say that something is wrong and attack a platform without researching the issue or understanding what the actual content is about. The current petition against us was originally billed as a genuine concern relating to eating disorders, and is now being extended into a full on attempt to control what can be said politically or within acceptable bounds of humor. Spreadshirt will continue to support the right for all artists, designers, merchandizers and businesses to voice their ideas via merchandizing."
ÊÊÊ