Trekkies have plenty to be excited about over the next couple of years. Star Trek Beyond – the latest installment in the rebooted movie series – is scheduled to land in theaters on July 22, 2016, while CBS has recently announced plans for a new Star Trek TV series that will debut in January 2017. And while we love officially licensed apparel as much as the next Trekkie, some of the coolest Star Trek-related gear that we have found on the Internet are the mashup T-shirts that cleverly mix the sci-fi franchise with characters and elements from other popular TV shows and movies. Here are six mashup T-shirts that any Star Trek fanatic will love.
1. Believe – Trek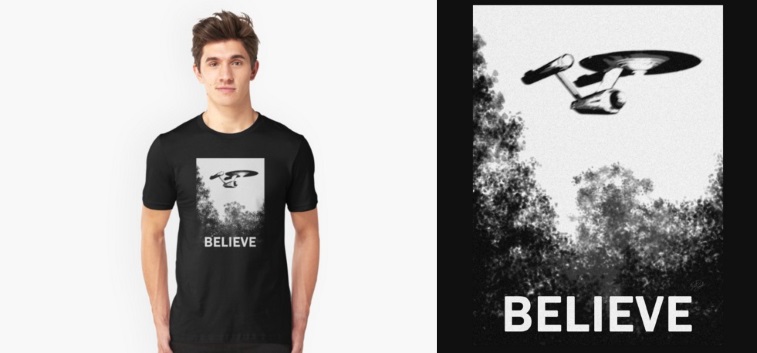 Fans of the cult sci-fi television show The X-Files will immediately recognize this image as a variation on the iconic "I Want To Believe" poster that FBI special agent Fox Mulder had hanging in his office. Of course, in thisStar Trek-inspired mashup, the flying saucer has been replaced with the Starship Enterprise. With a new The X-Files miniseries scheduled to debut in January 2016 and a new Star Trek television series currently in the works, there's never been a better time to show off your fandom for both shows. You can find the Believe – Trek T-shirt here.
2. Vulcan Salute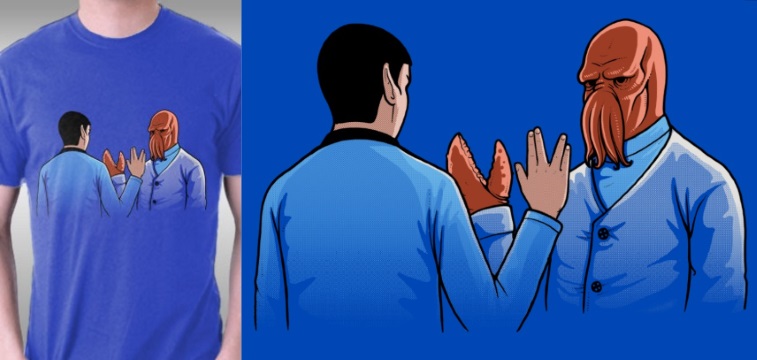 One is a Vulcan science officer with a love of logic, while the other's a lobster-like medical doctor with a questionable understanding of human anatomy. Despite their differences, it's nice to know that Spock and Zoidberg appear to share a mutual wish that they both "Live long and prosper" in this Star Trek-meets-Futuramamashup T-shirt. You can find this Vulcan Salute T-shirt right here.
3. Trek Wars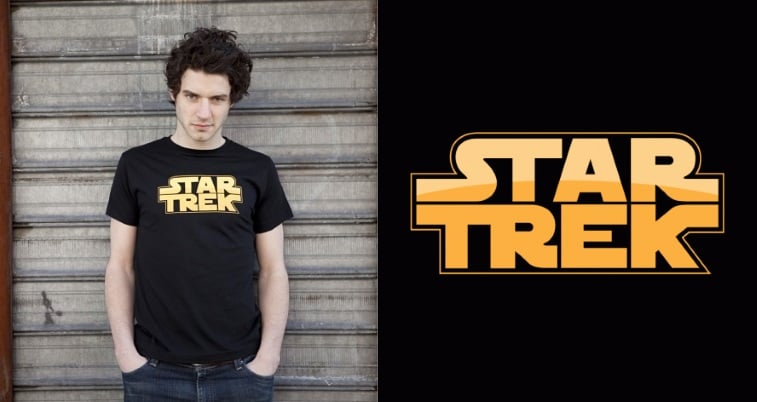 A long time ago in a galaxy where no man has gone before, someone got the brilliant idea to create a logo that paid tribute to two of science fiction's most beloved franchises. This Star Trek–Star Wars mashup T-shirt is perfect for the Trekkie Jedi master in your life. You can find the Trek Wars T-shirt here.
4. Dammit Jim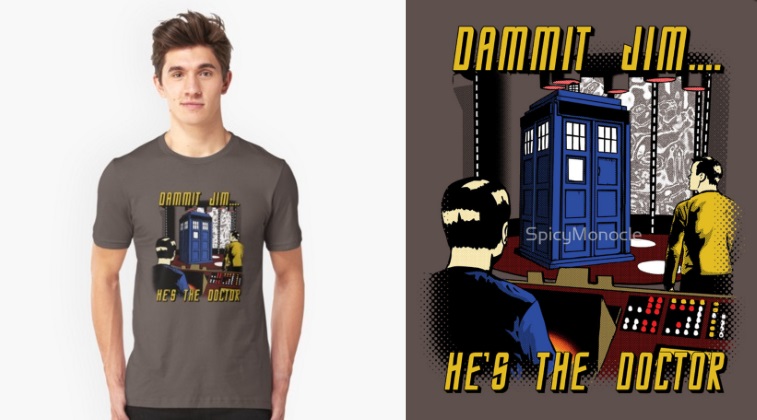 If there's one thing about Star Trek's Leonard "Bones" McCoy that everyone should know by now, it's that he's a doctor, dammit. But for some reason, the chief medical officer of the Enterprise has to constantly remind Captain Kirk that he's not an engineer, or a moon-shuttle conductor, or any other profession. No wonder he swears at Kirk – repeating this obvious fact over and over again can get a bit tiresome. Well, this Star Trek–Doctor Who mashup T-shirt finally gives Bones a chance to tell the captain about another famous doctor. You can find the Dammit Jim T-shirt here.
5. Picard and Vader – Shaking Hands – Can't We All Just Get Along?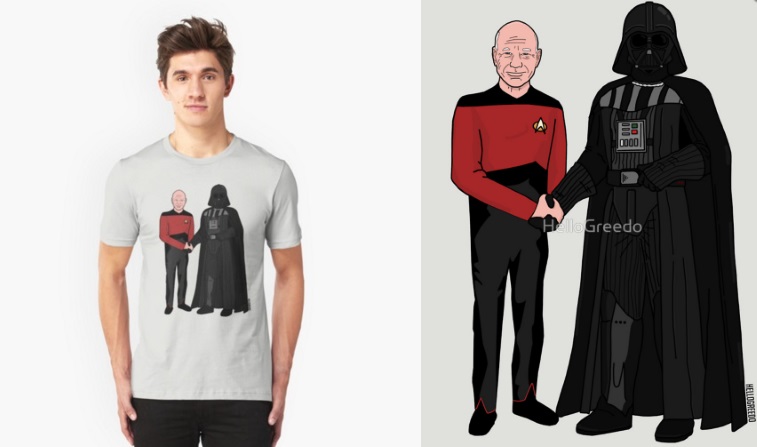 The debate over which is the better sci-fi franchise – Star Trek or Star Wars – will probably never be resolved, at least as long as Internet chatrooms exist. Maybe we should all follow Captain Picard and Darth Vader's example in this Star Trek–Star Wars mashup T-shirt and just agree to disagree. Show your support for peace between sci-fi nerds with this Picard and Vader – Shaking Hands T-shirt that you can find right here.
6. Breaking Borg, I am the One Who Assimilates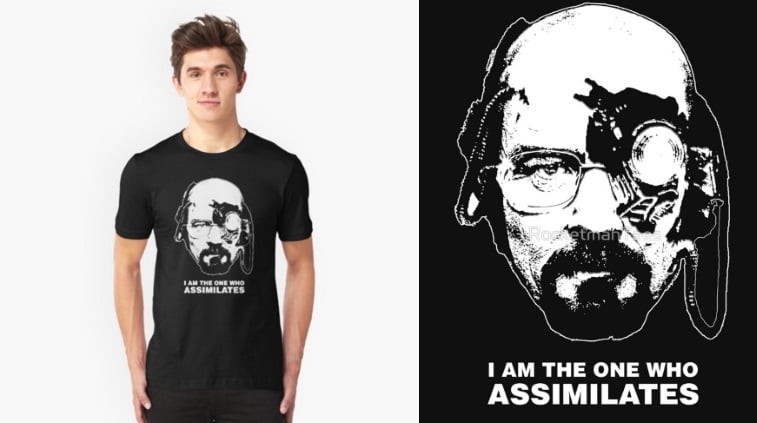 When it comes to hostile space aliens, no species is more terrifying than the Borg. And when it comes to meth kingpins, no one is more intimidating than Walter White. So it was only a matter of time before these two villains joined forces in a Star Trek–Breaking Bad mashup. You can find the Breaking Borg, I am the One Who Assimilates T-shirt right here.
Follow Nathanael on Twitter @ArnoldEtan_WSCSÊÊÊÊÊÊ
ÊÊÊ