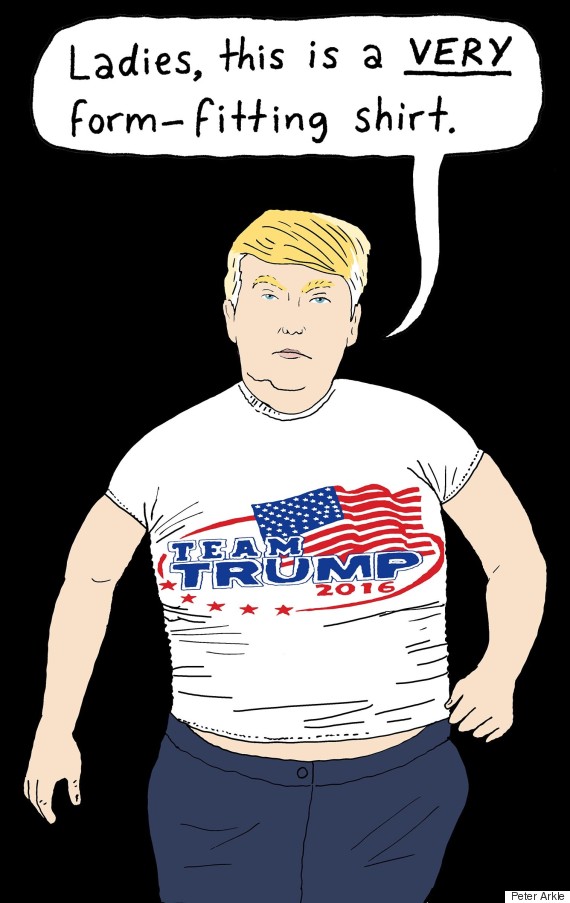 Bookmark: Team Hillary Tee | The Shop
Team Hillary Tee
Unisex sizing, women may consider sizing down.
When you purchase a T-shirt from a presidential candidate, what are you really buying into?
Team Cruz Texas T-Shirt
Please note that this is a baby T and sizing begins at conception, no exceptions. Select men's or women's; never may two of the same sex lie together. Some styles have mesh panels but are not enmeshed in the corruption of Washington. Some feature what you may call rivets, we call Simple Flat Tacks. Available in a wide array of major-beyond major, as they say in fashion-cuts, including NEA, Department of Education, Consumer Financial Protection Bureau. (So direct any complaints about this T-shirt transaction back to us.) Supporting super (fanny) PAC is completely detachable, to the point where you can deny any knowledge of it. Especially if it latches onto Melania. Postcard thingie enclosed for when the I.R.S. has been abolished and you file your taxes this way.
Team Sanders An-T Establishment T-Shirt
Now this is the shirt from the Gap. No billionaire clasp. No corporate money, nothing to wear but wear itself. If you're feeling the Bern, if you know anything by now about what Bernie Sanders stands for, it's that fit is irrelevant. Fit is establishment. Fit is what Wall Street suits do. Fit is for the oligarchy. Universal sizing, one Fight for Fifteen for all: charming grandpa, adorably rumpled. Imagine it smells a bit like Mark Ruffalo. (Millennials: Mark Ruffalo is not a grandpa.) Glasses attached. Specify with or without fringe.
Team Kasich T-Shirt – LIMITED EDITION
While supplies last. Ships only to Ohio.
Team Bush Bush T-Shirt T-Shirt – BACK IN STOCK!
Available again, now with complimentary Cruz pin: Make it Bush Cruz or Cruz Bush, either way it says spring break! You're seeing correctly, whether you wear glasses or last-ditch man makeover contacts. Not irregular, but so nice they named it twice: With the standout "Jeb" Bush logo, which stands for John Ellis Bush Bush, makes sense to bro W. Heritage knit, pre-shrunk. Tiny turtle pocket. "Please clap" on back. A deal per shirt at $4,965 less than cost per vote.
Team Marco Polo or Miami Tank Top – Men's – SOLD OUT
Women, please refer to men when ordering for this and all choices about your body; to your employer for questions about coverage. These are very complicated shirts. Yours would cost 21 percent more than the men's anyway, and that's OK. No refunds or returns on Gang of Eight multipack. No Unity option paired with the Team Ted Cruz Texas T-Shirt. All colors on back order, ideal over a Trump T in "spray tan"; immigrants, expect a ten-year wait for green.
Team Carson Me-Shirt – Sleepytime – UNAVAILABLE
Wash by hand, preferably Gifted Hands. Select gift options, or as we say-around the twin pillars of Dr. Carson's faith and family, next to the portrait of him with Jesus-Gifted Hands options. We'd say it's the ultimate evolution of the T-shirt, but we are scientists who don't believe in such things. All eyes will be on you and half-closed in this relaxed-into-sleepwear fit creation(ism). Egyptian cotton; store in pyramids. Not recommended for running. PrayPal and save.
Team Viable GOP Candidate – Right to Bare Arms DIY T-Shirt Kit
It's a party: Nominate your own write-in candidate! See justice served in supreme (court) style! Kit contains 8-10 yards of remainder fabric (largely from Chris Christie), assorted notions and embellishments, snaps, variable hem lengths, elastic fasteners, distressing tools and a permanent marker pen. Ask about Independent and Tea Party add-ons.
Amy Goldwasser is a New York-based editor, writer and strategist who specializes in the launches and relaunches of companies, products and publications. She and illustrator Peter Arkle are Studio Goldsparkle and most recently, the authors and publishers of the limited-edition book All Black Cats Are Not Alike.
Illustration by Peter Arkle.
ÊÊÊ