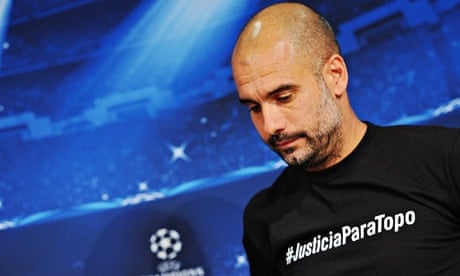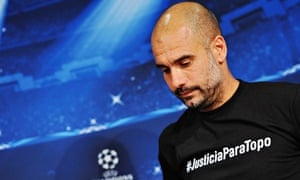 Jorge 'Topo' LÌÄ_pez, an Argentinian reporter covering the tournament with his wife, was killed when the SÌÄ£o Paulo taxi he was travelling in hit another vehicle. Guardiola, who knew LÌÄ_pez well, wore a T-shirt that read #JusticiaParaTopo during his pre-match press conference before the Bayern Munich v Porto Champions League fixture in April.
Uefa rules consider it an offence when an individual, club or association "uses sporting events for manifestations of a non-sporting nature". Guardiola was, therefore, warned after a meeting of Uefa's control, ethics and disciplinary body in Nyon on Friday. He has three days to appeal.
A number of Argentinian players published messages of support and sadness last year following LÌÄ_pez's death. After a win for Argentina Lionel Messi wrote: "Big hug to all the Argentina fans and a very special memory for Jorge 'Topo' LÌÄ_pez. This victory is especially for you, my friend. A big hug to the family, lots of strength". Javier Mascherano and Diego Maradona were also photographed showing their support.
Barcelona and AtlÌ©tico Madrid posed for a joint team photo alongside the justice for LÌÄ_pez message before a Spanish league game between the two sides in January.
There have been other incidents this season in the Europa League when players have been sanctioned under the same Uefa rule. The Guingamp midfielder Mustapha Diallo was fined Ì¢Û_Â10,000 for displaying a T-shirt with a picture of a Muslim school director in Senegal after scoring against Dynamo Kiev in February.
Yassine Benajiba of the Luxembourgian club Dudelange was suspended for two matches after displaying a T-shirt with the message "free Gaza Palestine" against Ludogorets.
The former Arsenal striker Nicklas Bendtner was banned for one match and fined Ì¢Û_Â100,000 for improper conduct after revealing underpants with a bookmaker's name printed on them after scoring for Denmark in 2012.