By Sean Newell – Profile from deadspin.com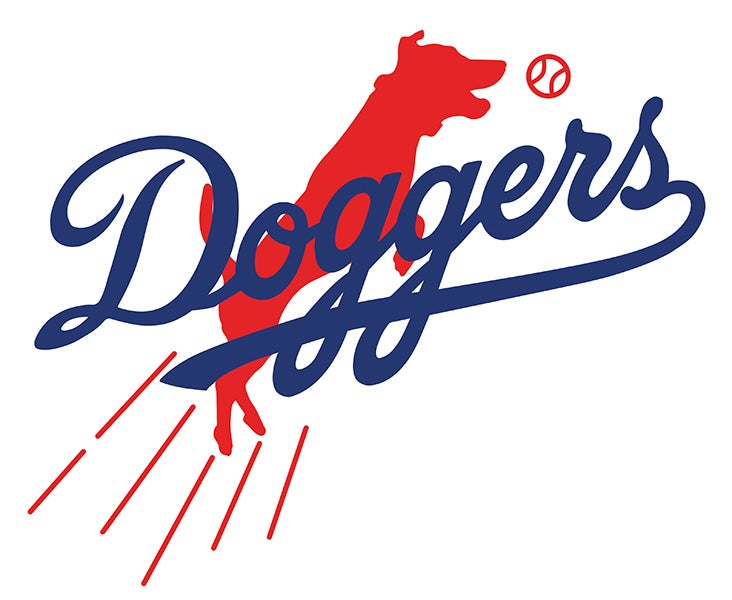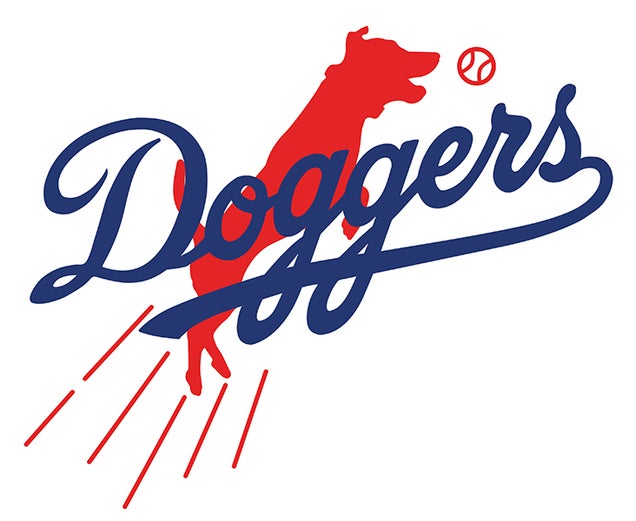 Arm The Animals is a small, self-styled "charitable clothing company." They make T-shirts, sell them, and donate around 15 percent of the proceeds to small, no-kill animal shelters around Los Angeles. If you go to the website, you can buy a "Pup Fiction" shirt with dog-faced Jules and Vincent brandishing guns or a "Cat-At" shirt based on the walking snow tanks from Star Wars Episode V: The Empire Strikes Back. For 10 days not so long ago, you could've bought a shirt with the above Doggers design on it. But not anymore, because Major League Baseball will go to the ends of the Earth to police its intellectual property.
The shirt was online and for sale for a week and a half before the Dodgers and Major League Baseball got wind of it and sent a cease-and-desist letter that claimed ATA had infringed on the Dodgers' trademark through sale of "unlicensed apparel bearing marks confusingly similar to the Dodgers Marks."
Essentially, the letter was designed to scare the shit out of this three-person company doing a small part to help animals find a new home. Failure to comply with the terms of the letter within one week would result in MLB taking "all steps necessary to preserve and protect the valuable rights of the MLB entities without further notice." (You can read the whole thing below.)
ATA, which has worked with around 20 no-kill shelters in the LA area, made approximately $375 from the shirts. They reinvested that into more screens, inks, shirts and other supplies to make the shirts. That all quickly went out the window when MLB sniffed out the operation. In addition to demanding that ATA refrain from selling the shirts and otherwise using "any other mark that is confusingly similar," MLB also demanded an accounting of the following information:
a. the number of Unlicensed Merchandise and/or Dodgers' trademark sold;

b. the prices at which the Unlicensed Merchandise and/or any Unauthorized Goods were sold;

c. the wholesale prices of such Unlicensed Merchandise and/or any Unauthorized Goods;

d. the channels of trade or mediums through which the Unlicensed Merchandise and/or any Unauthorized Goods were sold;

e. the inventory of such Unlicensed Merchandise and/or any Unauthorized Goods under ATA's direct and indirect control as of the date of this letter; and

f. the name, addresses, and telephone numbers of the manufacturer(s) and/or supplier(s) of such Unlicensed Merchandise and/or any Unauthorized Goods.
In exchange for doing all of this, MLB graciously promised it would be prepared to discuss things "amicably," assuming full compliance. Once you stop taking the equivalent of one seat behind home plate at Dodger Stadium out of our pockets, then, maybe, we'll play nice.
Now, this design is obviously a play on the Dodgers logo. The coloring, stylization of "Doggers," and the ball-flight marks are on-the-nose reproductions, but no one would actually confuse this for a Dodgers shirt. Further, teams don't generally sell things that, you know, don't include the actual team name or logo anywhere. It's not an accident that the first thing you see on the letter is the official logo of Major League Baseball.
Still, ATA fully complied with all of the requests because Three People v. Major League Baseballis a tough case to fight, let alone win. Compliance cost roughly $300, including refunds to customers who had purchased the shirt since receipt of the cease-and-desist letter, and required removing all traces of the design from the internet, which also cost considerable time.
The Doggers shirt is nowhere to be seen now and the company isn't so much angry as it is nonplussed by the reach and fervor of MLB's pursuit of a small-time novelty-shirt operation. ATA was hesitant even to discuss what had happened for fear of future retribution from MLB.
We don't want to go too far down into a semantic argument over what is "confusingly similar" in this case. But you don't need a JD to know that it's possible to protect one's intellectual property in ways that don't make one look like an overflowing bag of dicks.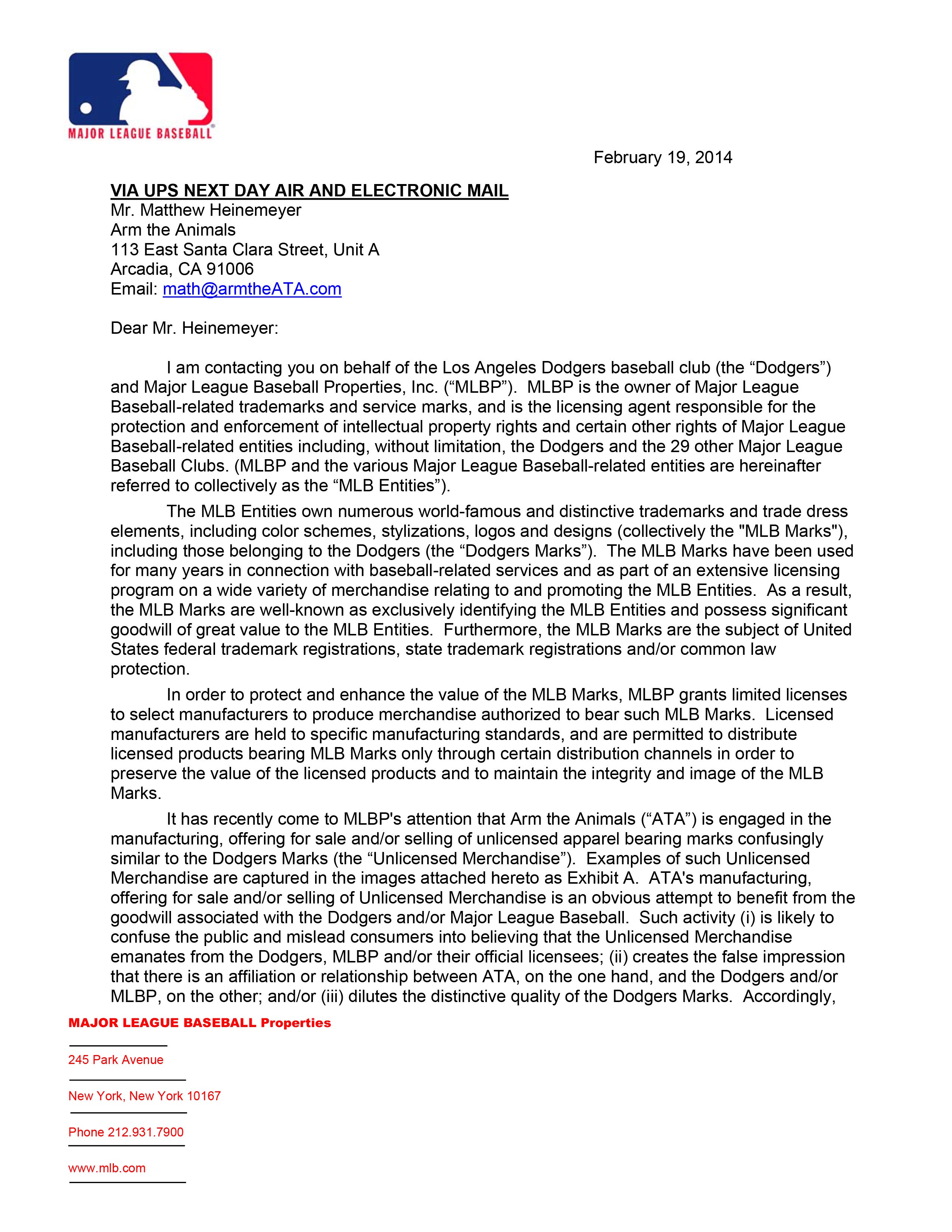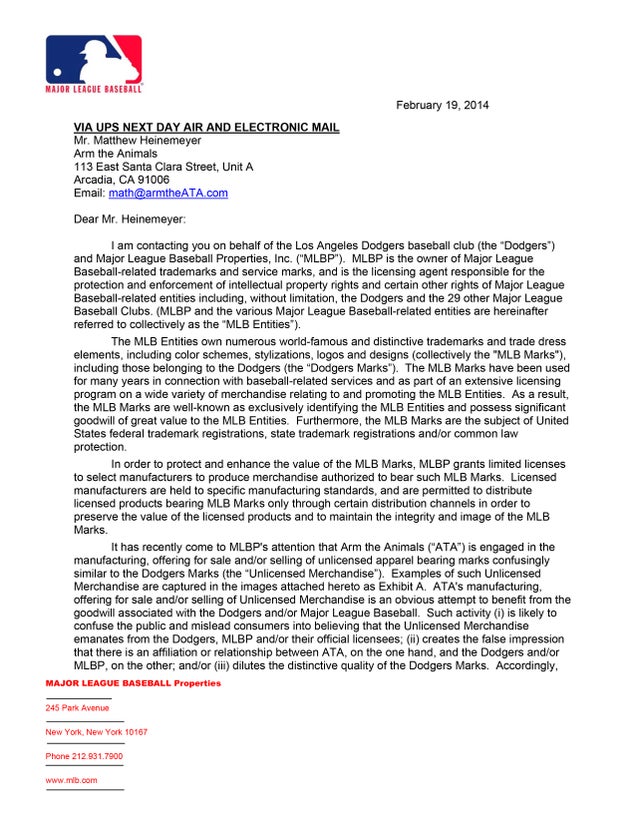 SEXPAND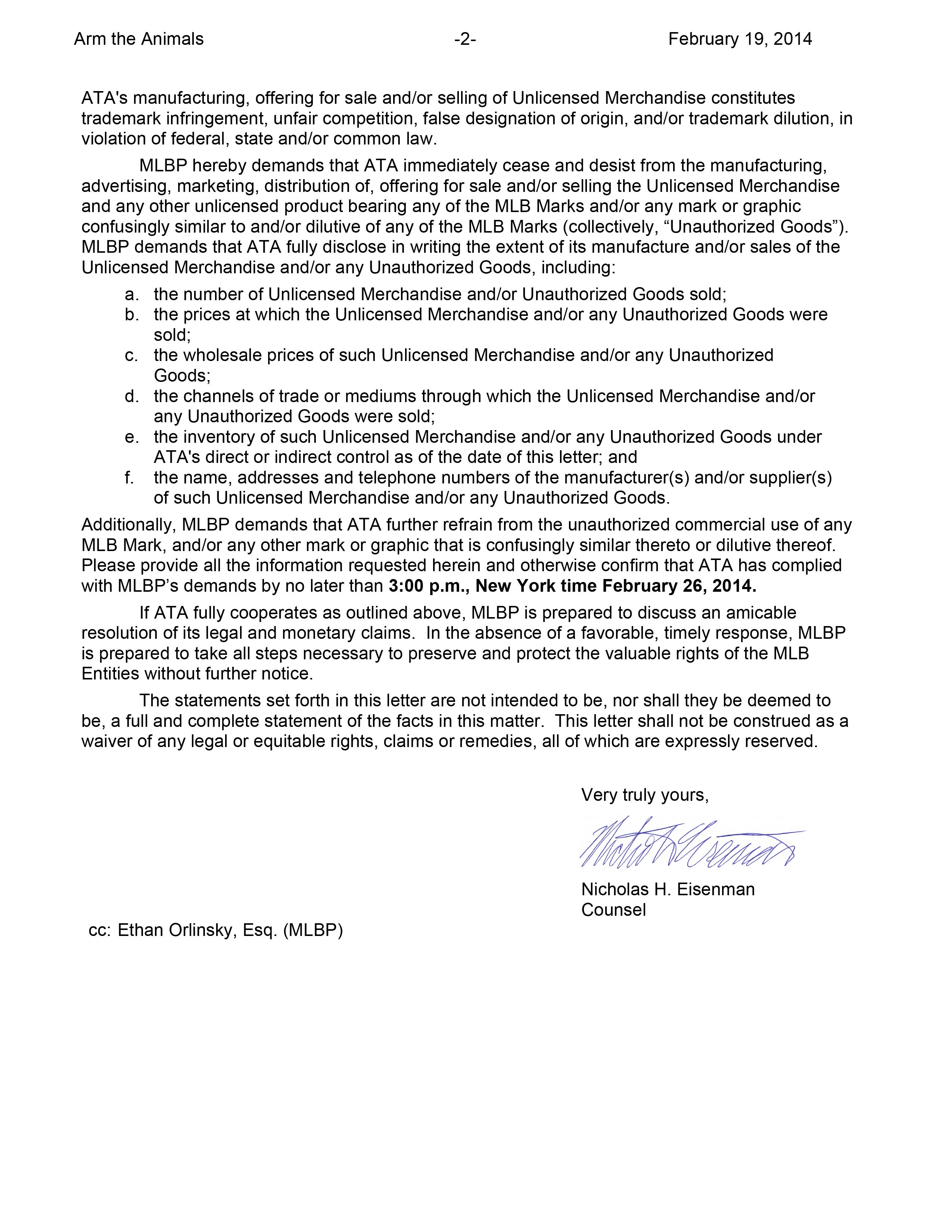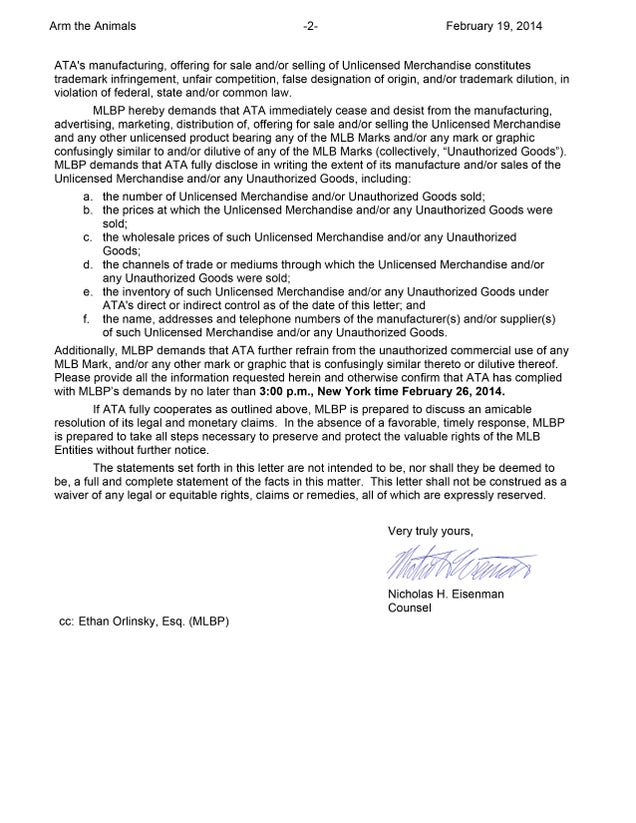 ÊÊÊ