By Nicole Kwan from FoxNews.com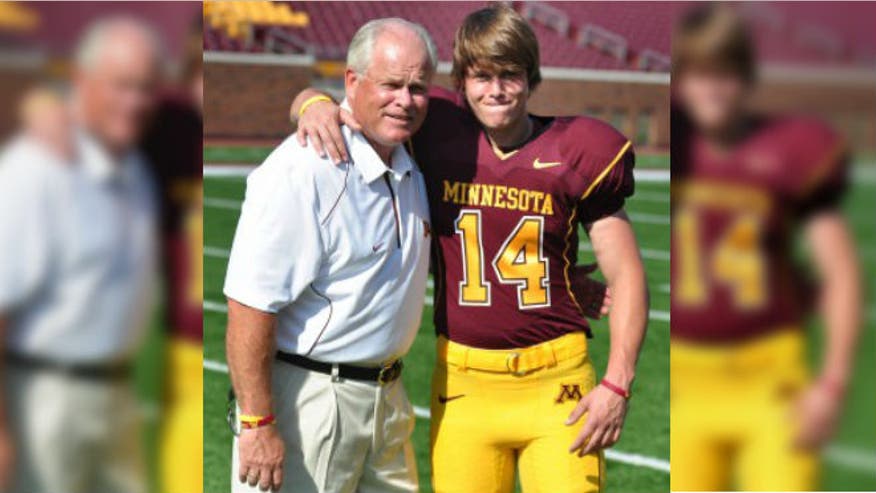 Connor with his dad, Kevin, then the defensive coordinator for the University of Minnesota. (image courtesy ComfPort)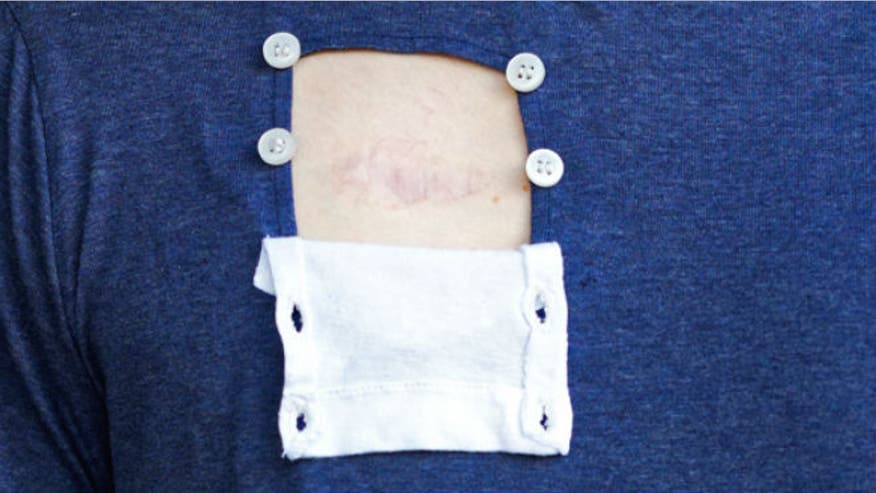 The opening in the ComfPort Port-T allows health care providers to access a cancer patient's port catheter to administer treatment. (image courtesy ComfPort)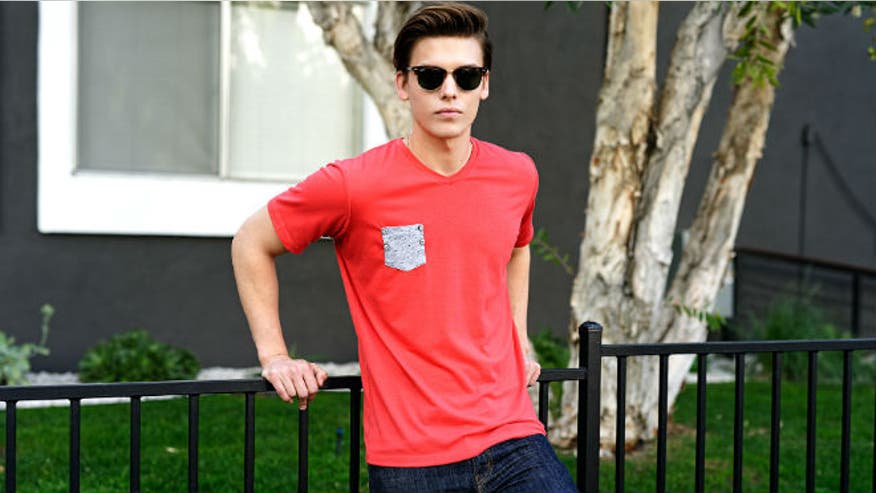 Connor wearing the ComfPort Port-T, which was designed so a cancer patient can dress like he normally would during treatment. (image courtesy ComfPort)
Five years ago, Connor Cosgrove was diagnosed with leukemia. Little did he know that his experience would lead to a business venture that provides a solution for a common, yet little-discussed issue for chemotherapy patients- discomfort from their port catheters during treatment.
Along with his brother, Clint, 32, the former college football player created ComfPort Port-Ts, T-shirts with functional pockets through which health care providers can access a cancer patient's port catheter to administer chemotherapy. In April, they launched a Kickstarter campaign, raising $38,329 to start up their business.
Connor, 24, and Clint are proud that their project is bringing awareness to chemotherapy patients and the ports that some of them require for treatment.
"Before I was diagnosed with cancer, and I think this is true for our whole family, I didn't think about it-out of sight, out of mind," Connor, who now lives in Los Angeles, told FoxNews.com.
Connor spent the summer of 2010 training for his first football season as a wide receiver for the University of Minnesota, where his dad, Kevin, was the defensive coordinator. In hindsight, he realized the excitement distracted him from small symptoms- night sweats with fever and overall fatigue- that, in the end, added up.
"I couldn't get through a whole practice without sitting down," Connor said. "That was super frustrating as an athlete"_ and embarrassing at times. I couldn't keep going and didn't know why."
After about a month of symptoms, he went in for blood work. The results came in quickly and he was told to immediately go to the emergency room, where multiple tests over the next few days led to his final diagnosis- acute lymphoblastic leukemia (ALL).Ê For patients with ALL, the bone marrow overproduces immature lymphocytes, a type of white blood cell.
What is a port catheter?
Connor started chemotherapy the day of his diagnosis and the following day a port catheter was inserted in his chest. He had ten months of intense chemotherapy, then two and a half years of in-treatment chemo, followed by three and a half years of daily oral chemo. He's been in remission for a year and a half.
A port catheter is a long, hollow tube underneath the skin that attaches to a large vein in the patient's chest. This central device is useful for patients on long-term chemotherapy, like Connor, because it provides quick access to the vein during treatment, rather than having to look for one every time.
To administer treatment, a needle attached to a line of IV tubing is inserted into port. Most are placed in the upper chest, below the collar bone on either side for close access to the heart vessels, in order to pump the medication through the body.
Because there are no external elements to the port catheter, patients can be as active as they like, including swimming and playing sports.
When the port was first inserted into Connor's chest, it was painful, but settled into his tissue and wasn't uncomfortable until it was actually used for treatment. Patients must remove their shirts to access the port, and Connor found that any movement irritated the surgery site and pulled on the IV line.
"It became this uncomfortable thing, an overall kind of devastating sign of what my life had become," he said.
"I never knew [the port] bothered Connor," Alexis Maciej, a nurse practitioner in the pediatric oncology ward at the University of Minnesota Masonic Children's Hospital, told FoxNews.com. "Maybe on the scope of things that are bothering you [during treatment], it may not be on the top of the list, but for the human experience, it's a real part of it."
A new playing field
When receiving chemotherapy through a port, patients can either take their shirt off or, for women, wear a thin-strapped tank top that can be moved aside. Hospital gowns are baggy and sometimes pulled on the line, Connor said. Frustrated, he decided he wanted to create a shirt with an opening to accommodate a port, but one that would look just like a normal shirt he'd wear outside the hospital.
Neither he nor Clint, a college football scout, knew anything about fashion, but submerged themselves into the process in early 2012, talking to pattern makers and testing out designs.
"We got to the point where we had worked on it for so long and we couldn't get our ideal shirt, and we were getting ready to give up," Clint, who lives in Chicago, told FoxNews.com.
Then, in October 2014, one of Connor's best friends passed away from ALL. His girlfriend encouraged him to refocus on the project to cope and helped connect him with a pattern maker in Los Angeles and the design began to solidify.
The biggest challenge designing the ComfPort Port-T has been making the shirt look as though there isn't a hole underneath it, and creating an opening large enough to have port access and room for medical tape, without losing the integrity of the fabric.
"[Elements] on their own are easy to do: a pocket, a patch. The point of the whole thing was we wanted stylish clothing so people wouldn't have to give up a piece of their identity," Connor said.
Planning for the future
The ComfPort clothing line includes three styles of Port-Ts in men's and women's sizes and supporter shirts without the port hole for those with friends and family going through treatment. The Port-T, made with a bamboo fabric blend, was offered for $50 through the Kickstarter, and they expect to it retail around the same price when their website, including a community section and online store, is fully launched after they fulfill their Kickstarter orders. For patients who need a Port-T right away, the brothers suggest reaching out to them through their Facebook page to preorder.
Maciej is impressed by the work Connor has done on ComfPort, especially since many people, walk away after their cancer treatment and do not want to revisit that part of their lives, she said.
"It's those smaller human kindnesses that if they can be easier and gentler for the experience, why not?" she said. "Maybe it takes somebody who's going through it to realize the issue, and not the health care provider watching from the outside."
For every ComfPort shirt they sell, the brothers will donate one to a cancer patient. In the future, they hope to donate a percentage of their sales to different charities. Clint and Connor also plan to make a full clothing line not only for the comfort of patients, but for supporters to connect with patients, as well.
"The feedback has been amazing," Clint said. "As little as a shirt may be, from the messages we've received, it has given hope"_ for me, as a family member who had to go through watching my brother suffer, to see these people's messages"_ it's life-changing."
ÊÊÊ