By Dale Chong from neontommy.com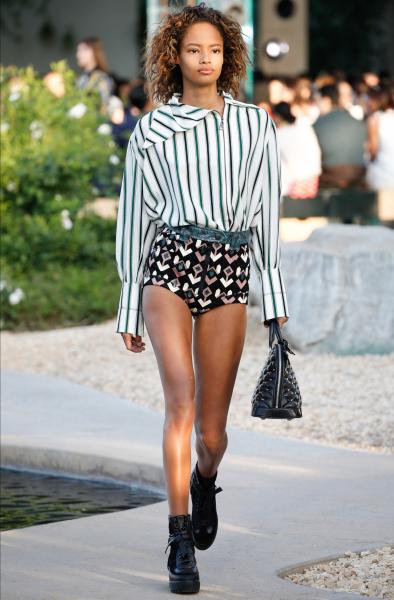 Milan, Paris, London and New York. Designers, fashion editors, celebrities, and socialites fly from all around the world to these locations for the renowned fashion weeks each season to see the latest trends on the catwalk move to the red carpet and magazine pages.Before you know it, Los Angeles just might join the ranks of these fashion capitals. In the past few years, L.A. has seen the slow move of fashion coming over its way to the West Coast. Designers like Rodarte, Band of Outsiders and more have been changing their view on L.A. as a fashion hub, and the trend has been growing ever since. Once looked over by designers as the land of casual jeans and cool t-shirts, how could the center of the entertainment industry not also contribute to the world of fashion?
After the major fashion weeks finished up for the Fall/Winter 2015 collections, major couture houses have been debuting their Cruise shows-most notably Louis Vuitton's show in Palm Springs. Louis Vuitton's Cruise 2016 collection isn't the only show to debut in Southern California, and it certainly won't be the last. Tom Ford and Dior have also shown new collections on the sunny side of the United States.
If designers putting on fashion shows in Palm Springs and L.A. weren't enough to convince the industry that the style scene is headed west, more brands than ever are popping up, taking inspiration from the cool, laid back vibe that L.A. has to offer for designers old and new. According to Who What Wear, Parisian designers have the same envy for Angelenos as Angelenos for Parisians. Designers such as Isabel Marant and artists like Garance Dor̩ are saying that L.A. has an easygoing air to it that makes it seem as though everyone is on vacation, which often leads to the fresh styles in the clothes and products they create.
But while designers are showing their collections in L.A., some critics are doubtful about the staying power the fashion scene will have in the city. According to the New York Times, many see the city as a flash in a hot pan, a hot spot for Cruise collections once, and sooner or later designers will be jetting off to the next hot vacation spot.
What does this mean for fashion as we know it? It looks like we can look forward to seeing more designers rising to the surface in L.A. making a name for themselves, which could also lead to some major brands to join the ranks of the big leagues out there. Already, companies such as Reformation, Mother, and most famously NastyGal have been making their claims to the L.A. land and there's no stopping what's coming next.
In a place where "Lights, Camera, Action!" seems to be the main motto everywhere you go, it simply makes sense that L.A. is finally catching up in terms of fashion. Celebrities are becoming fashion icons, and designers want to live the lives of sun, palm trees, beaches and entertainment. What better place is there to go for any of those?
Reach Film Editor Dale Chong here. Follow her on Twitter here.
ÊÊÊ